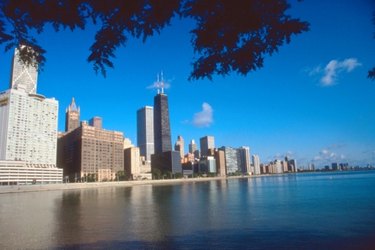 Chicago is an exciting city in which to throw a 21st birthday party. With corner bars, pubs, clubs and restaurants spread throughout the city, you'll never lack for places to celebrate. Whether you want to party all night long, or prefer a low-key, intimate affair with friends and loved ones, you can make it happen in Chicago.
Bar Crawl
Twenty-one is the legal drinking age in the United States. Celebrate this milestone birthday by organizing a bar crawl with your friends and family. Before the big day, select a handful of bars to visit during the afternoon or evening and map out a route for you and your guests to follow. Whether you choose to bar hop along Clark Street or the Southport corridor, or you'd rather spend time crawling along Western Avenue's Irish bars on the city's South Side, you will find plenty of establishments to share a celebratory drink with friends. Be sure to practice safe, smart drinking. Only accept drinks from people you know or directly from the bartender. Pace yourself and follow each drink with a glass of water. Know your limits and don't overdo it.
Wristband Party
If you prefer to stay in one location for the night, host a wristband party at a lounge or pub. Party package deals typically cost between $20 to $30 per person and include unlimited well drinks and beer for anyone wearing a wristband. Contact the manager for specific details regarding the bar's party package options, including cost, food and drink selections, music, decorations and party length. Choose a pub, bar or lounge that is within walking distance, or can easily be reached via public transportation. If the bar you choose is located in an isolated area of the city, assign a designated driver, hail a cab or consider renting a limousine with your friends to take you to and from the bar. Do not drink and drive.
Dinner and the Theater
If drinking isn't your thing, celebrate your 21st birthday with an evening in Chicago's theater district. Tours of Broadway musicals and regional plays offer a wide variety of theater options to suit nearly every taste and interest. Restaurants in the theater district offer express dining before shows, guaranteeing that you and your party will be served in time before the start of your show. Tickets for shows can be expensive--sometimes more than $50 each--so you may want to keep your party small. Smaller theaters throughout the city, including Second City in Old Town or the Chopin Theatre in West Town, offer shows at lower prices and have package deals. Contact the theater beforehand to check rates and show times.
Party on the Lake
Grab your friends and family for a lakeside celebration on a yacht. Lake Michigan runs along the eastern border of Chicago and provides a beautiful backdrop for a 21st birthday party. Charter a crewed, fully equipped yacht from one of the many travel boat agencies located in the city's waterfront. Most charter companies offer all-inclusive packages for a cruise around the Chicago lakeshore. These packages often include an open bar as well as a dinner or hors d'oeuvre menu. Call the charter company for specific details regarding their party package deals and options.