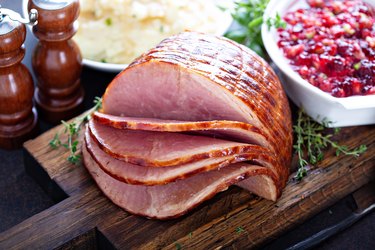 The European continent has contributed to the world's cuisine in countless ways, but its extensive winter holiday food traditions, many of which precede Christmas traditions, are among the most enduring. Yule food traditions go back millennia, with pagans from Germanic, Nordic and Celtic regions, among others, all bringing their own traditions to the winter solstice. The Yule season historically begins at midnight on December 22, the longest day of the year, and continues for 12 days.
From hunting a wild boar to serve as a tribute to the Norse god Freyr to creating sun-shaped pastries to honor the Celtic sun god Lugh, the early pagans designed Yule dinner menus to celebrate the coming new year in ways that combined symbolism with the practical need to focus on fall and winter harvest foods.
Many dishes you already enjoy during the holiday season have roots in the Yule food traditions. If you'd like to create a feast almost exclusively devoted to Yule recipes, you can find a number of drinks, entrees, side dishes and desserts that specifically embody the pagan solstice tradition while adapting to the dietary needs of your guests, including those who are gluten-free.
If there's one Yule tradition you can't leave out of your holiday celebration, it's wassail. According to pagan historian Alaric Albertsson, the word "wassail" derives from the tradition of toasting your family and neighbors with ‌wes hal‌, or "be well." However, the wassail tradition at Yuletide was no mere "cheers" at the dinner table. "Wassailing" and its origins as a verb date to a long tradition.
For young pagan women, wassailing involved visiting other homes in the village to spread cheer during Yule. They carried large bowls of wassail and offered a song along with a generous serving of the spicy alcoholic beverage to their neighbors for good luck.
Males, meanwhile, went "apple howling," a tradition in which they blessed the local apple orchards in hopes of a bountiful harvest in the coming year. In some places, the Yule tradition called for "pouring one out," so to speak, by dribbling wassail among the roots of the trees. Other villages were said to follow the Yule tradition of soaking bread in wassail and then placing the bread in the apple trees' branches.
Whether you plan to bring a thermos of wassail with you while caroling or want to serve it at your Yule dinner, the spicy warm drink is the perfect way to kick off solstice festivities.
Wassail mulled cider recipes
To make a batch of traditional, slightly alcoholic wassail, combine about 1 cup of hard cider or ale with a scoopful of sugar. Simmer on low heat until the sugar dissolves. Add generous portions of nutmeg and ginger to taste.
While you're doing this, bake several small, cored apples in the oven on the lowest possible heat. Once they cool, scoop out the flesh, mash it and add it to the simmering liquid. Add another 1 ½ to 2 quarts of ale or hard cider. Once the entire mixture is warm, whisk a final time before serving. (Alternatively, keep it over a low flame or in a slow cooker for guests to serve themselves.)
Other modern wassail versions are a bit easier and nonalcoholic, but they still capture that Yuletide spirit. Combine about eight parts apple juice or apple cider with five parts of a blend of pineapple, orange and lemon juice. Add a couple of scoops of sugar to taste. Warm this blend gently in a large pot.
Float a cinnamon stick and a small orange studded with cloves in the pot as it warms. Like traditional wassail, you can serve it immediately once it's completely heated or keep it warm in a slow cooker or over a low flame.
Traditionally, the centerpiece of pagan Yule dinner menus was a roast boar, which was hunted especially for the solstice feast. Either the hunted boar—or a farmed suckling pig—was roasted whole and then brought to the groaning board.
Even today, people enjoy roasting whole pigs on barbecue spits over an open fire or a large grill. For people celebrating Yule in a warmer climate, cooking and eating the main course outdoors are especially conducive to fellowship and festivity.
In Sweden, where Yule traditions run deep, the solstice ham is boiled, which allows cooks to make the beloved holiday sauce ‌dopp i gryta‌ ("dip-in-the-pot"). Once the ham is removed from the boiling water, the leftover strained liquid is simmered with herbs like parsley and dill for about an hour until it's reduced to a thick broth that's perfect for dipping Swedish rye or other crusty breads.
For many people, however, the traditional baked Christmas ham is a more logical way to keep the Yuletide spirit alive. Whether your Yule recipes call for the solstice entree to be flavored with pineapple rings, raisin sauce or a mustard-maple glaze, the baked ham is a strong callback to those long-ago wild boar feasts.
Root vegetable side dishes
Yule recipes for traditional side dishes weren't much different from those for modern winter holiday side dishes. Vegetables haven't changed much in the last few thousand years. The "keepers" of the fall harvest, then as now, are hardy root vegetables such as turnips, parsnips, beets, potatoes and onions.
As with modern Christmas decorations, one of the traditional Yule color combinations is red and green. If you'd like to focus on vegetable sides with a red and green color pairing, combine red-hued root vegetables with green vegetables and herbs. Consider tossing roasted beet cubes with shaved Brussels sprouts. Another classic pairing involves roasted small red potatoes sprinkled with rosemary. Additionally, red onions look striking as a topping for a "wilted" warm spinach salad.
The tart-spicy flavor of a dish like spiced crab apples is ideal for cutting through the richness of a holiday meal. Even better, apples evoke the spirit of Yule, as does the heightened red that comes through from the spicing process. If you prefer to use regular apples, make spiced apple rings rather than whole crab apples.
You often can find jars of these preserved pickled goodies at specialty shops or make them yourself by boiling the fruit with cider, brown sugar, cloves and cinnamon until they are tender-crisp.
Stuffing flavored with Yule seasonings
The dried herbs of summer are especially meaningful on the longest night of the year, after which the new growing season is anticipated. Dried savory herbs were an important part of Yule dinner menus. These days, it's easy to find fresh herbs in many supermarkets year-round. A special way to include these symbolic aromatics is to include them in the stuffing or dressing you serve with your meat platter.
If you're making a traditional Yule roast pig or ham, a cornbread or Swedish rye-based stuffing made with traditional Yule herbs goes especially well with it.
For a Scandinavian-style Yule stuffing, include generous handfuls of fresh sage, parsley and dill with pieces of rye bread, onions, celery, and pork chop or sausage cubes. A mushroom, chicken or vegetable broth can serve as the liquid base.
If you'd like a more Germanic touch, substitute cornbread for rye and focus on fresh sage as your main aromatic. Apples can be added to the onions, celery and sausage, with chicken or turkey broth as the moistening liquid.
Of all the solstice desserts, the Yule log cake, or ‌bûche de Noël‌, is perhaps the most iconic. It's unknown exactly when a whimsical pagan-era cook first fashioned a rolled cake to honor the tradition of choosing a special, massive log to burn in the fire during the solstice. The dessert is now a firmly entrenched way to honor those long-ago traditions, even if you don't have a fireplace.
If you're leery about rolling up a sheet cake, look for a specialty pan designed to look like a Christmas log. Fill this pan with your favorite chocolate cake recipe. Once cooled, cover it with chocolate frosting and decorate.
A traditional rolled Yule log cake starts by making a basic chocolate cake base on a cookie sheet or jelly roll pan. Whip up a vanilla cream cheese frosting, carefully roll the cake into a log shape, and frost it with chocolate or hazelnut frosting.
Chocolate Yule log variations
Some people prefer a dark brown covering, while others like light brown "wood." Vary the amount of cocoa powder or choose a shade of pre-made frosting to meet your needs. Yuletide cooks can also get creative with both the cake and filling layers of their Yule log recipe. Consider using chocolate buttercream, ganache or even white chocolate.
Another option is a ‌bûche de Noël‌ recipe that boasts a filling made from dates, kumquat marmalade and almond paste; a chocolate-coffee cake base; and a surface sprinkled with candied citrus and meringue "mushrooms" made by whipping egg whites and sugar at high speed. The meringue mushrooms are studded with shards of hardened caramel.
The most festive part of presenting any Yule log, whether gourmet or store-bought, is making your own decorative flourishes. Use a fork to create bark ridges and a knife to carve out knotholes. Chocolate shavings add more texture. If you're talented with your hands, create small woodland creatures from colored almond paste or cookie dough.
"Kinship cookies" were likely the precursor of our modern-day animal crackers, according to paganism historian and cookbook author Patricia Telesco. They were especially popular at Yuletide in Germanic regions. Kinship cookies are traditionally small and shaped like various animals.
You can make your own by adapting a sugar cookie recipe. Add a generous scoop of anise seed and a couple of spoonfuls each of grated lemon and orange rind. Once you roll out the dough, use the smallest animal-shaped cookie cutters you can find to cut the dough into shapes before baking.
Ginger symbolized the heat and sunshine that pagans could begin looking forward to after Yule. The Swedish version of Yule cookies is ‌pepparkakor‌, also known as "ginger thins." Made with molasses, brown sugar, powdered cloves and powdered ginger, ‌pepparkakor‌ dough is rolled out to ⅛-inch thickness, then cut into rounds or festive shapes. Even if you prefer your cookies on the thicker side, any basic ginger "snap" cookie will add tradition to the Yule table.
Swedish pagans also celebrated the sun through shapes in Yule recipes. Treats known as "solstice cookies" were round to represent the full sun. Use your favorite shortbread cookie recipe and either a cookie press or a circular cookie cutter to create a round solstice cookie. (You can also make balls and flatten them with a spoon.) They should be baked until golden to underscore the sun theme.
Winter solstice is celebrated throughout the Northern Hemisphere. While your cultural heritage might not be specifically Germanic pagan, you can still incorporate meaningful ethnic holiday dishes into your Yule celebration. For example, if you're of Caribbean descent, you're probably already familiar with the curried goat dishes that evoke the pagan Scandinavian "Yule goat" who helped deliver presents.
In China, various dumpling dishes are a crucial part of winter solstice celebrations. Some Native American traditions include roasting nuts that were gathered in the fall. The Jewish tradition of serving sweet or savory ‌kugel‌ puddings during special occasions, especially winter holidays, can be a special Yule dinner addition.