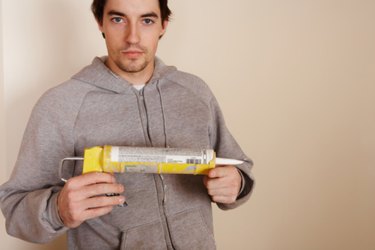 Caulking can be a messy job, especially if you are inexperienced in properly applying and smoothing out the caulk. A caulk finishing tool is used to press the caulk into the joint and neatly smooth the caulk bead, giving it a professional appearance, instead of an uneven, bumpy look.
Reasons to Use a Finishing Tool
When you properly squeeze caulk into a joint or crack, you fill it without the caulk overflowing. Although you should always apply a continuous bead, the caulk surface is often rough when you first dispense it. The caulk must be smoothed before it sets. A caulk finishing tool not only smooths out the bead of caulk, it also forces the caulk securely down into the crack or joint, while trimming away excess.
Examples of Finishing Tools
A caulk finishing tool is usually made of either plastic, rubber or stainless steel. An important factor is that the tool be flexible enough to glide over a fresh bead of caulk, smoothing it down instead of creating a mess. Stainless steel finishing tools often have a wood handle to grip while dragging the narrow stainless steel blade across the caulk. The head, or tip, of plastic and rubber finishing tools are often tongue-shaped, or shaped like a dull arrowhead. Grip the tool and drag the head along the bead of caulk.
Using Your Finger
If you do not have a caulk finishing tool once you finish squeezing water-based caulk into a joint, you can smooth the bead the old fashioned way. Moisten your finger with water and run it along the caulk. Do not allow your finger to become too caked with the caulk as you do this. Place a wet sponge or paper towel nearby, or tape the paper towel to the wall, and wipe your finger clean as you work.
Additional Finishing Tool Alternatives
There are other alternatives to using a caulk finishing tool or your finger. One homemade method is to run the bottom side of a plastic spoon along a bead of silicone or polyurethane. You can also carefully run the handle of an old toothbrush along the bead. An additional method is to smooth the caulk with a rag that is wet with a solvent that the caulk manufacturer recommends.