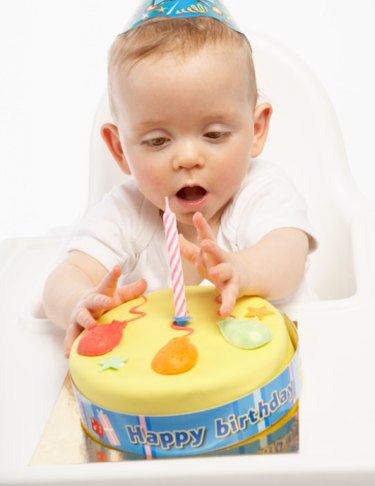 The baby is turning 1! The first year is filled with so many emotions. The baby's first birthday is a time to celebrate the life of the youngster. Planning the birthday party will consider the baby and be centered around little one. This is baby's day, and baby should be honored.
Themes
Themes for the first birthday party will center around the child and include items the child can explore through touch. Some fun 1-year-old themes include barnyard animals, cars and trucks, rubber duckies or beach babies. Be sure to include decorations for babies to hold and mouth, as babies this age are tactile and will be excited to explore all the new sights with their hands and mouths.
Games
Games for a 1-year-old party shouldn't be extensive because the little guest of honor may tire easily. Use music CDs to lead short clapping games and songs. Allow children to play in a child-safe area with infant and toddler safe toys. Allow the baby to open her presents at the beginning of the party so the game and play part of the day can include the new toys. One-year-old children love to discover, so no guest will be disappointed because baby does not pay attention to his gift. The baby will at least handle every gift.
Snacks
Use finger foods for snacks. Arrange trays for older children and adults, then arrange separate trays for toddlers and infants. For adult trays, use fresh vegetables, finger sandwiches and dips. Infant and toddler trays can include toddler toast, finger sandwiches and small pieces of soft fruit. Use small cupcakes for guests and allow the 1-year-old to explore her cake in front of guests.
Favors
Allow guests to play with infant-safe favors at the party, such as bubbles, large crayons, bean bags and balls. Take-home favors include coloring pages, personalized tambourines and sidewalk chalk. Arrange a favor bag for each guest, and try to fill the bag with large items rather than many small items that tend to get lost.