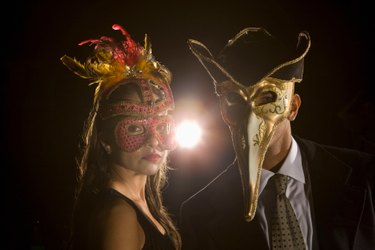 "Masquerade" comes from the French word "masque" which translates into "mask." European aristocrats used to host balls for guests which afforded them the opportunity to display a completely different persona by wearing masks and costumes. A masquerade ball party, in itself, can be a special event; however, there are many games and activities to make the party even more of a success.
Picture Time
As party guests enter the party room with their masks on, have a designated photographer take photographs of each guest with an instant camera. Alternatively, have someone download digital photos on to a laptop. After everyone has arrived, hold a guessing game to see who can determine everyone's identities. Have a supply of costume accessories available such as crowns, tiaras, boas and feathers for your guests. Encourage them to dress up and pose for photographs as souvenirs of the party to take home later.
Masquerade Costume Contest
Provide information about where to get costumes along with invitations to the masquerade party. Recommend looking for costumes and accessories at vintage shops, charity stores, theater prop shops and costume stores. Women can make some minor alterations on bridesmaid dresses. At the party, have everyone vote for the best female costume and the best male costume. Count the votes and bestow a prize on the two winners.
Mask Decorating Contest
Provide plain masks for guests as they enter the party room. Alternatively, send out plain masks along with party invitations. Have a table set up for guests to decorate their mask. Supply glitter, sequins, paint, feathers, lace and other embellishments to decorate the masks. Have a contest for the best mask and provide a prize for the winner of the contest.
Mystery Murder Game
Role play a murder mystery game such as "Murder at the Abby Manor Annual Masquerade Ball" where a guest is "murdered." Characters include "Sherlock Tracy," a homicide detective, French banker "Cheque Penne," and "Pepper Keygrip," a neurotic TV producer who sings her dialogue. Choose actors for your main characters. Party guests will have to deduce who killed the victim. The ready made party pack also comes with additional activities suitable for a masquerade party.