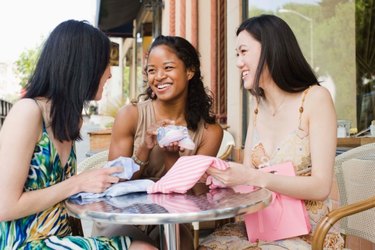 Babies require so many things -- clothes, furniture, toys, feeding accessories, hygiene products and more. The costs quickly add up for already nervous new parents. Showers relieve some of this pressure by delivering baby-related gifts to expectant parents. After the baby is born, showers are still useful; they present an opportunity for friends and family to meet the new baby or reconnect with the new mom and dad.
Play Date and Meet-and-Greet Baby Shower
An after-the-birth baby shower provides an excellent opportunity for friends and families to meet the new arrival. Organize the event at the parents' home so they won't stress too much about taking the newborn out. To avoid overburdening them, offer to come early to clean and prepare the home for guests, and provide all the refreshments. Invite a limited number of close friends and family members, and encourage them to bring their little ones for the baby's first play date. If you plan to invite more than three children, designate a willing adult to keep them busy with nonmessy activities such as coloring a banner for the baby's room. Before throwing this type of shower, wait at least until the baby is 6 weeks to 2 months old; a slightly older baby has a stronger immune system. Gifts for a meet-and-greet baby shower can include baby clothes and toys for upcoming stages, still-needed items on the baby registry or restaurant takeout coupons for the probably frazzled parents. Stick around after the party's over to return the parents' home to its previous pristine condition.
Mom-focused Shower
Childbirth takes a huge physical and emotional toll on a mom, who needs the support of friends and family members more than ever. Treat her to a pampering shower. Pick an indulgent theme; for a girly-girl mom, throw a spa shower with pedicures, massage chairs and aromatherapy. Ror a fun-loving mom, throw the shower at night, mix-up margaritas if she's not breastfeeding, serve comfort food and trade childbirth horror stories. Send the fun mom home with a bottle of wine or something similarly indulgent and new CDs. Ask the dad to watch the baby for the duration of the party. Alternatively, schedule a fancy afternoon tea party.
Guys Get-together
Mom shouldn't get to have all the fun, especially if Dad is an involved, dedicated father who shares half the parenting duties or is a full-time stay-at-home dad. His social life has probably suffered since the baby's arrival. Even if he doesn't want to stray from home for long, he should get some time with his old buddies. Keep dad's after-baby shower baby-free, like mom's, and plan it around his best friends and favorite activities. Get him out of the house. Go to his favorite happy hour spot or BYOB miniature golf course. Send him home with gifts such as new video games, DVDs or nostalgic toys such as unassembled airplane models.
Considerations
If the new parents have already had a shower or multiple showers forgo requests for gifts or specify that gifts are voluntary but unnecessary. Moms and dads should avoid registering for specific gifts unless the after-baby shower is in place of the before-baby shower. Keep the after-baby shower informal; invite guests via email or phone.