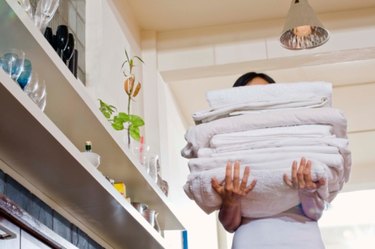 Terry cloth is an extra thick, soft and absorbent material that is often used for towels and washcloths. It is also used to make certain garments, including robes and some sportswear. During the manufacturing process terry cloth is made like other fabrics are, but the pile is formed into loops that hang away from the base. Terry cloth can be made from cotton or linen, and there are different types of terry cloth fabric you can choose among.
Standard Terry Cloth
Manufactured on a machine called a Dobby Loom, standard terry cloth is made from cotton. On standard terry cloth the loops on the fabric stick up from the base cloth on both sides, which makes it soft and absorbent. The drawback to standard terry cloth is that the loops are in straight lines that can become unspooled and leave barren spots on the fabric.
French Terry Cloth
French Terry cloth is manufactured in the same manner as standard terry cloth. That being said, there are a few key differences between French and standard terry cloth. French terry cloth only has loops on one side of the fabric. French terry cloth is also stretchy, so it is suitable for more projects than standard terry cloth. Additionally, French terry cloth is a medium- to light-weight fabric, so it can be used for sportswear garments in warmer weather. It can be made of bamboo, cotton, rayon and blended with Lycra or spandex for added stretch.
Micro Terry Fleece
Micro terry fleece has very fine, tightly woven loops on both sides of the fabric base. Unlike other types of terry cloth, micro terry fleece is not made from a natural fiber, it is made from polyester. It is not particularly absorbent, but it is extremely soft. Common uses for micro terry fleece would include blankets and outerwear.
Knit Terry Cloth
Knit terry cloth is similar to French terry cloth, but French terry cloth can be knit or woven. To make knit terry cloth, interlocking loops of one or more strands of yarn are bound together. That being said, knit terry is otherwise identical in its properties to French terry. It is soft, stretchy and absorbent. Typically, it is made of 100 percent cotton. However, it can also be made of bamboo, rayon or linen, or have an element of added stretch with a Lycra or spandex blend.