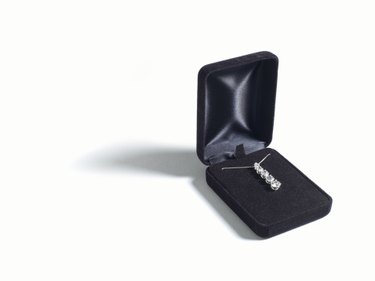 The 10th wedding anniversary marks an important milestone in a marriage. This anniversary celebrates a decade together as a married couple; celebrate it accordingly. Give your spouse a thoughtful anniversary gift that shows your love and devotion -- a traditional anniversary gift or a romantic gift that comes from the heart.
Traditional Gifts
The traditional gift for a 10th wedding anniversary is tin, with the alternate being aluminum. Tin and aluminum gifts include keepsake boxes, jewelry (often recycled jewelry items), cuff links, sculptures or statues, picture frames, flower vases or cookware. Because tin consists of 85 to 99 percent pewter, you can also get your spouse a gift made of pewter. Pewter gifts include key chains, jewelry or home decor items.
Modern Gifts
Diamond jewelry has become the modern gift for a 10th wedding anniversary. For women, get her a pendant or necklace, earrings, ring, watch or bracelet with diamonds. Examples of men's diamond jewelry includes rings and watches. To mix the traditional and modern gifts, get your spouse a pendant made of tin or aluminum with a diamond in the center, or a pewter keepsake box with diamond inlay.
Flower and Gemstone Gifts
For the 10th wedding anniversary, daffodils are the traditional flower gift, and black onyx or blue sapphire are the traditional gemstone gifts. Daffodil gift ideas include a pendant or charm in the shape of a daffodil, a painting of daffodils or a bouquet of daffodils. Gifts with black onyx or blue sapphire include jewelry, watches or keepsake boxes with gemstones embedded in the box. To mix these two gifts together, look for a daffodil painting framed with a picture frame with black onyx or blue sapphires embedded in it.
Romantic Gifts
For romantic gift ideas, think about the memories you and your spouse hold for the past 10 years of your marriage. Put together a photo album with candid and professional photos of the two of you, including vacation and honeymoon photos. Include photos of your friends, family and pets as well. Another romantic gift idea is writing her a love letter or a poem that includes 10 reasons you love her.
Homemade Gifts
You can make your own 10-year anniversary gift without having artistic talent or craft skill. Bake him cookies, brownies or other sweets. Make a gift basket with a variety of items he enjoys, such as hobby gifts, event tickets, cheese and crackers, and a bottle of wine. Write him secret love messages on sticky notes, and leave them around the house on your anniversary for him to find. Places to leave these love notes include the bathroom mirror, in the fridge or on the television.