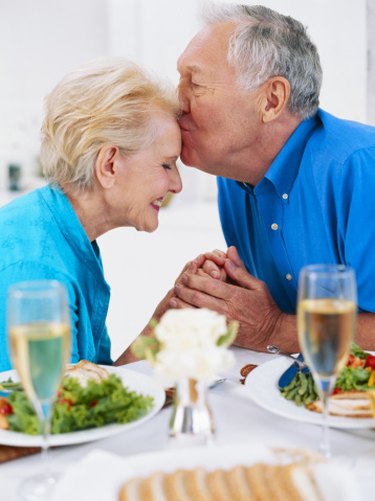 Games aren't just for kids. Senior citizens have a wide amount of experiences to draw upon when celebrating a birthday. The first thing to consider when planning the games to play at a senior citizen's birthday party is the health and mobility of the senior and the other guests. Make sure to plan activities that all the seniors can participate in so you do not alienate any of the guests with activities that are too strenuous for some. Choose activities and games that everyone can enjoy.
Adapt a Pinata
Pinatas are a favorite kid's birthday activity and a traditional part of Cinco de Mayo celebrations. They are easily made with papier mache. A piñata is supposed to be difficult to break open. Adapt the design of the piñata by using a paper bag instead of papier mache. You can also use brown paper wrapping cut into shapes and stapled or glued at the edges. The paper will be much easier to break than papier mache. Since some seniors might think a piñata is too difficult to break open, they will be happy to see that they can still enjoy it.
Trivia Games
Board games with trivia questions have been popular for generations. Find one that contains plenty of questions from the era the seniors remember most fondly. If you are planning a party for family or a group of close knit friends, you can use the trivia board game and create your own questions based entirely on the people playing the game. For instance, if the senior citizen birthday party is for an elderly family member, make all the questions be about family members, such as birthdays, middle names and anniversaries. The personalization of the trivia will engage all the players. If the party is for a group of seniors, make the questions be about a time or place that all the players shared.
Bingo
Plan your own bingo game. Bingo allows seniors to chat while playing an easy game with little stress or activity. You can make the game more fun by having an energetic and entertaining bingo caller. The prizes the seniors win for each round of bingo will also make the game fun and memorable. If this is a family party, engage younger members of the family to design the bingo cards especially for the party.
Dancing and Movement
Some seniors are more physically active in their older years than when they were young and enjoy doing things that get them up and moving around. Try some kind of dance activity such as a dance contest to see who has the best moves when all the players vote. Or make a modified scavenger hunt where players have to search the premises for clues and items in order to win a prize. If weather permits, plan an outdoor game of bocce ball, croquet or mini-golf.