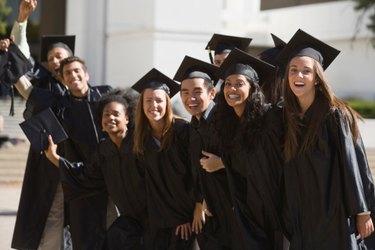 High school graduation is a major life milestone that needs to be celebrated. The kicker, though, is to know what to do to help a son or daughter or a friend feel special on graduation day. Many families plan parties and invite family and friends. You can make the party special by showing a slide show of the graduate growing up, making a memory book for the graduate, having special party favors for guests and sharing the graduation party with a friend who is also graduating.
Slide Show
Creating a slide show to showcase the graduate is easy if you have a scanner and a computer with PowerPoint. First, go through photo albums or boxes of old pictures, and select the pictures you want in the slide show. Scan these and then make a PowerPoint presentation. It is fun to write captions for the pictures that tell a funny story about what was going on in each photo. Music can be added. Think about adding music that was the graduate's favorite during the periods represented in the photos. Set the computer to run the slide show continuously throughout the party.
Memory Book
A great way to showcase the graduate at a high school graduation party is to have photographs of her all over the house. If you have the time and money, you can have some of the photos blown up to poster size. Find photos that represent all of the major stages and events in the graduate's life, and frame as many as you can. While the party is going on, take pictures of the graduate meeting and greeting family and friends, opening gifts and eating. Put these pictures into a photo album as a memento.
Party Favors
Party favors may seem like a thing of the past, but resurrect them for a graduation party. One idea is to give each guest a white T-shirt or a white ball cap or even a white pair of boxer shorts. Have a lot of different kinds of fabric markers, paints and glitter glue available for the guests to use to decorate their own graduation party favor. The only catch to the activity is that the item must have something to do with the graduate and graduation.
Sharing Graduation
Since high school students are very into their friends, it might be nice to share a graduation party with a friend or two. This idea has several benefits, such as families sharing the expense of the party and the graduate potentially getting a few extra gifts he might not have received at a private party.