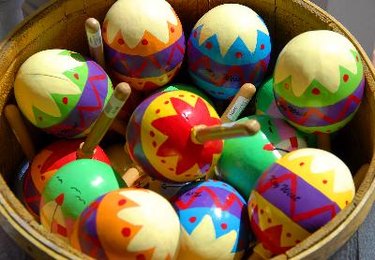 Cinco de Mayo is a time for those of Mexican American heritage to celebrate their native home. It is not often celebrated by those still living in Mexico. Invite your friends and family over for a time to celebrate and have fun; you don't have to be of Mexican heritage to have a good party.
Colorful Dishes
Bring out your most colorful and decorative dishes for serving foods. You also can set them around the table before the meal is ready to act as a decoration. If you don't have colored dishes and don't want to spend money on them, purchase several colors of disposable plates. Set them around the table, mixing and matching the colors. This will give a pop of color to your dining room.
Maracas
Fill a basket full of maracas and place them on a table. Not only do they make wonderful decorations, but you can play with them, too. Tie fishing line around the handles and hang them in a window for another change-up on the decoration.
Mexican Flags
Mexican Americans are proud of their heritage, so hang the Mexican flag somewhere outside or inside the house.The flag is three sections: green, white and red. You can hang it in a window or from a flagpole. Make a large tablecloth with fabric in the three colors to further decorate your home.
Colorful Blankets or Throws
Mexicans are known for their woven blankets. Pull some out and throw them over the back of a couch or easy chair. You can purchase placemats that look like Mexican blankets; set them on the dining room table, or use one in the middle of a coffee or end table.
Paper Flowers
Paper flowers are used for the Mexican Day of the Dead, but you also can use them for Cinco de Mayo. Make them out of tissue paper and green pipe cleaners and place them in a vase on the table. You can fill a basket to set by the door or practically anywhere else. If you are having a lot of guests over to celebrate, make enough to send each guest home with a flower.
Paper Cut Out Banners
Paper decorations are very traditional in Mexico. The women put a lot of time and effort into cutting designs and pictures into pieces of paper. You can purchase them from a store, or make your own. If you make several small ones, string them up like a banner across a window or mantle.
Sombreros
You can't have a Mexican celebration without sombreros. You can purchase inexpensive ones at party stores. Hang several on a wall for maximum effect. You also could cheer up a room just by wearing one during the celebration. Pass them out to all your guests.
Pinatas
A pinata is something fun for children to enjoy on Cinco de Mayo. Purchase one in the shape of a burro or sombrero and have the children take swings at it. Make sure it is filled with enough candy that all the children will get enough.