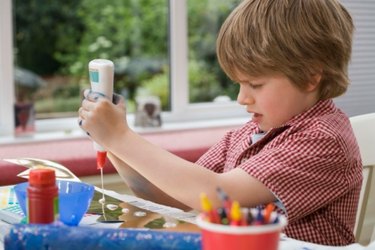 The Revolutionary War, also known as the American Revolution, lasted from 1775 to 1783. This time in American history was one of great upheaval and change and a difficult period for children, most of whom were very poor and had lost one or both parents. Entertainment of any kind was in short supply and toys were crafted with whatever material was on hand.
Maps
Assign kids maps to research, and provide them with replicas to color and label. Map making is a good Revolutionary War craft for kids because it shows them what America first looked like, and where the battles that helped shape the country took place.
Corn Husk Dolls
These dolls were very popular with kids during the Revolutionary War because they could be made with the material on hand -- corn husks left over from the harvest. Soak the husks in water for about an hour to keep them pliable. The children can then shape the dolls and dress them in period costumes, depicting soldiers or those who lived on the prairie.
Hornbooks
Kids during the Revolutionary War period wrote their ABCs on this "book." Made of parchment paper and mounted on a small, wooden paddle-shaped board, the hornbook was an important possession for every school child. To replicate one, cut out the shape of a paddle from cardboard and attach a sheet of paper held in place with sticky-backed plastic for kids to write the alphabet on.
Flags
Display the flags of the Revolutionary War period and let kids recreate them with construction paper. Not all flags of this time were red, white and blue; one Grand Union flag had red and green stripes and a Sons of Liberty flag had red and white stripes going horizontally and vertically.