Things You'll Need
Paper plates

Construction paper

Newspaper

Tempera paints

Paintbrushes

Hot glue gun

Scissors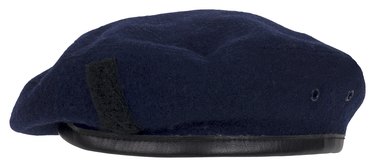 The French beret is a stylish hat that is worn at an angle at the top of the head. While the fashion behind French berets is commonly associated with artists, poets and writers, the beret also functions as a means of keeping the head warm since these hats are often made out of a woolen fabric. If you are introducing kids to the concept of berets and want to make your own, use paper that you can mold into a French beret and that kids can wear.
Step 1
Set out paper plates and construction paper for the project on top of sheets of newspaper. The newspaper serves as a covering for the work surface so that you do not get paint or glue on the table.
Step 2
Paint the front and back sides of the paper plates and construction paper with tempera paint. If you're doing a French theme, draw the French flag on top of the plate or use the flag's colors -- blue, white and red -- for the beret's colors. Wait for the paint to dry for one to two hours.
Step 3
Place two pieces of the construction paper side by side at the horizontal ends. Apply a thin strip of hot glue along the edge of one of the ends. Set the other end of construction paper on top of the hot glue. This connects the two pieces of construction paper so that the total length of the paper is longer and can then be wrapped around the head. Wait for the glue to dry for 20 minutes before proceeding.
Step 4
Cut a long strip from the construction paper, lengthwise, so that you end up with a paper band that is 1-1/2 inches thick.
Step 5
Wrap the 1 1/2-inch paper band around the child's head. Make a mark in the band with a pencil for the circumference then cut the paper band at this mark with scissors. Glue the two ends together so the band forms a complete circle.
Step 6
Set the paper band flat on the work surface. Put a paper plate on top of the band. Note how much larger the paper plate is than the band. Make a crease in the paper plate's edges all around then fold the edges down.
Step 7
Apply glue to the upper inside of the paper band. Fit the paper plate into the band so that the creased edges connect to the band where the glue is. This attaches the plate to the paper band so that the two make a complete French beret. Wait one to two hours for the hot glue to dry before wearing the beret.