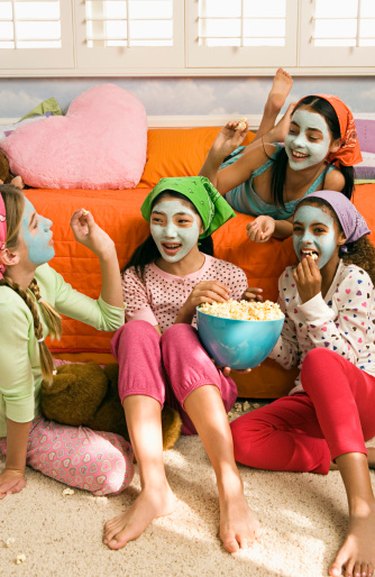 Help your tween daughter plan an unforgettable slumber party for her pals. Keep it fun, light-hearted and low on preparation and clean-up. Include games sure to get the group giggling, crafts they'll love to take home and lots of yummy snacks. Throw in a little pampering, and you've got the perfect girls' gathering.
Crafts and Treasures
Provide girls a large selection of fine-point permanent markers and white or pastel pillowcases. Guests can decorate and sign each other's pillowcases. Or buy flip flops in a variety of colors and provide foam stickers, beads and other embellishments for decorating. Ask each guest to bring two 'treasures' sealed individually in brown bags. Add in a few grab bags with dollar store items into the mix. Give each girl play money and host an auction. Girls can bid and buy bags. Guests open their bags at the end of the auction, and if desired, trade items.
Giggles and Games
Grab a plastic cup for each girl, an empty gallon milk jug and a large bucket. Line girls up. Place the bucket filled with water at one end of the line and the empty milk jug at the opposite end. The person closest to the bucket fills her cup, pours that water into the cup of the girl next to her, and then turns back for more water. The process constantly repeats down the line. Each time the person closest to the jug has her cup filled, she dumps it into the jug. Time the teams to see if they can fill the jug within a minute or two.
For another quick game, buy glow-in-the-dark sticks or items. After night fall, hide them around the house or yard. Break guests into teams to search for items or provide a treasure map to give clues.
Makeup and Fashion Show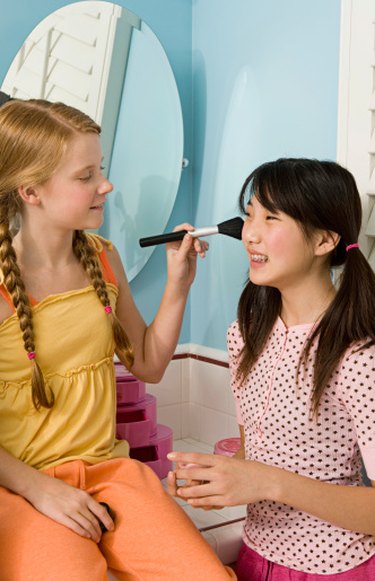 Set up a makeup vanity, and let girls work in pairs to create dramatic looks. At another table, provide combs, brushes, clips and ties. Encourage girls to come up with silly, over-the-top hairstyles. Fill a laundry basket with hats, scarves, belts and other accessories. Tell girls to change into their pajamas, create an ensemble, slip on the flip flops decorated earlier, and then report to the living room for a fashion show. Play music as girls strut, spin and show off their styles.
Snacks and Treats
Make supper into a scavenger hunt. Divide girls into teams, and give each team a list of items related to their dinner dish. For example, one team gathers items for an appetizer, another gets salad ingredients while the final group grabs pizza supplies. Let each team create their dish. Or set up a make-your-own bar for salads, nachos, tacos, or any other favorite foods. Top the meal off with a sundae bar.