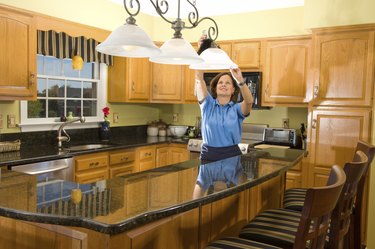 Highly durable and resistant to scratching and scorching, blue pearl granite adds a prestigious look to counters and complements practically any kitchen design theme. This imported Norwegian granite varies in color from silvery gray and blue to gray-black with white flecks. Large quantities of mica and quartz embedded within the granite reflect light with an iridescent luster.
Cabinets and Appliances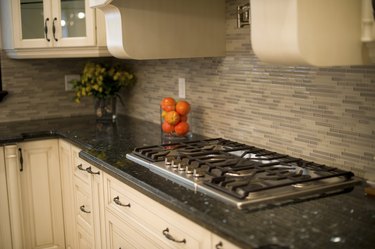 The dark tones of blue pearl granite on countertops or a backsplash strike a strong contrast against pure white kitchen cabinets, while a softer cream color balances the gray tones in the natural stone. Whites with dashes of blue undertones positions the granite into the cooler color tones. A dark cherry-wood stain on cabinets adds both warm and sense of class to the kitchen. For a bold and dramatic modern look, go for dark blue lacquered cabinets. Stainless steel appliances match the silvery flecks in the material, while black appliances bring out the shiny black quartz speckles commonly found in blue pearl granite.
Backsplash Ideas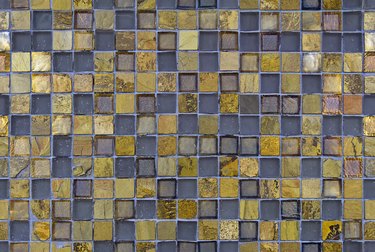 Gray subway tiles in one solid color or in varying shades of white and gray complement the mottled look of the countertops. Draw the eye with a checkerboard field of small, black and white, or black, gray and white mosaic accent tiles behind the kitchen stove. Square tiles in varying shades of blue and gray installed on the diagonal create textural interest with their diamond-shaped patterns. Cream or beige colored tiles with bright blue accent tiles offer another option -- or try the reverse -- a deep blue tile with pearly white accent tiles.
Wall Color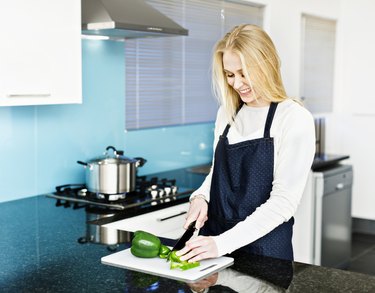 Neutral colors on walls allow the granite to stand out as a colorful element in the room. For the walls, select a different color or shade than the color on the cabinets or the backsplash. If the cabinets are white and the backsplash is gray, add neutral colors to the wall, such as a dark beige, tan or toasty brown. In contemporary color palettes for homes, gray has emerged as a trending wall color -- and it complements the granite. Other wall color options include muted hues of blue, green or violet. When painting walls, opt for a lower saturation in the wall's color intensity to keep them from competing with the granite.
Bright Accessories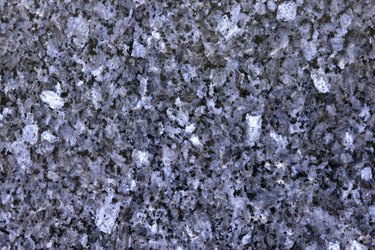 Bright blue decor accents and accessories bring out the blue in the granite. Hang a trio of pendant lights with blue-glass shades over a granite-topped kitchen island or a single pendant with a blue shade over a granite-topped kitchen table. Dress up a window with cobalt blue cafe-style curtains or display your collection of blue and white porcelain teacups on a kitchen hutch or wall shelf. Add a splash of color with a simple vase of blue silk flowers, a blue kitchen towel hung on an oven handle or a blue canister set displayed on the counter.