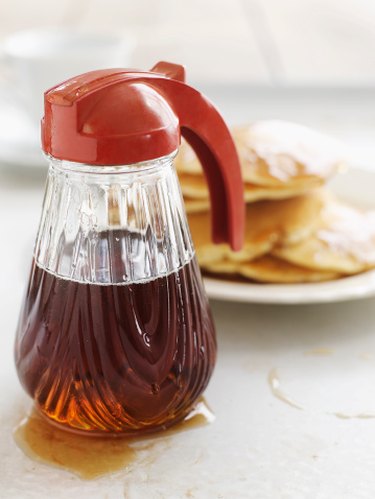 Breakfast dates and parties deserve their own invitations. Whether you are planning a breakfast party, meeting or intimate date, you'll need a proper invitation. Many card and invitation websites and computer programs allow you to customize invitations. With an imagination and a few computer or scrapbooking skills, you can make appropriate breakfast invitations.
Business Meeting Breakfast
Many companies take advantage of morning meetings and get employees together for breakfast at the same time. Some companies pay for the food and host the breakfast, while others offer no-host breakfast meetings at restaurants. When this breakfast meeting is not a regular part of the employees' day, an invitation is in order. Ideas for a business breakfast invitations include incorporating the invitation into a weekly or monthly newsletter that goes out to each employee via email, fax or paper. Though informal, this format will suffice since all employees are sure to read it. Giving out invitations in their paycheck envelope is a also a way for the employee to see it. If the company will host the business breakfast, the employee may need to RSVP. Important points to cover when wording a business breakfast invitation include stating whether the event is a required company meeting, hosted or no-host, along with providing the meeting's official purchase.
Breakfast Party
A breakfast party for your next birthday, anniversary, after wedding or other special occasion will provide a new twist for your guests. Specializing both the wording and graphics on the invitation is an ideal way to catch the guests' attention and let them know the details of the party. Include any special instructions along with the normal "where" and "when" information. For example, if you are hosting a pancake bar breakfast, ask each guest to bring a special or favorite pancake topping or bring her favorite coffee mug to the party.
Breakfast Date
A breakfast date only requires one invitation. Asking your significant other or a new, special person in your life on a breakfast date provides a creative way to get away from the normal dinner or lunch date. If you want to invite someone with whom you are intimate, the invitation should reflect this status and may include a request for sexy pajamas, breakfast in bed or room service in a hotel room. If the relationship is not so intimate, it can involve a breakfast at a coffee shop or restaurant. Include information such as the reason (an anniversary or getting to know each other better) and the time.
Fund-Raiser Breakfast
Hosting a pancake breakfast for a charity or special organization can be a huge success. The invitations can be formal mailed invites, or you can print them on fliers and hand them out with a newsletter or post them publicly. Either way, they should list the organization for which the event will raise funds, the location, date and time. If the fund-raiser is by invitation only, include RSVP information or ask guests to purchase tickets to the event.