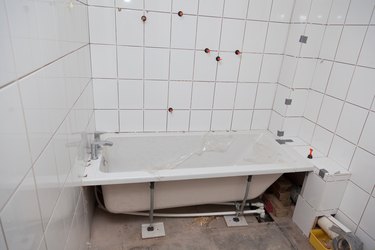 Acrylic bathtubs are lightweight and affordable, and they are available in a dizzying array of designs and colors. To keep them looking their best, you must clean acrylic tubs and also wax them from time to time. The best acrylic tub cleaners are nonabrasive and don't contain harsh chemicals. Keeping these tubs in the best possible shape is challenging but manageable.
What Cleaners Can Be Used on Acrylic Tubs?
The best acrylic tub cleaners include Fantastik, Glass Plus, Scrub Free, Nonammonia Windex, 409, denatured alcohol and Kaboom. The ones to avoid include Comet, Soft Scrub, Lysol Disinfectant, Dow Disinfectant, leave-on cleaners and Crystal Drain cleaners. Also, be sure to avoid aerosol cleaners and anything with acetone or ammonia. If you see mold on the caulk lines, combine equal parts bleach and water and rub it on with a toothbrush. Let it sit for 10 minutes and flush with clean water.
Never use abrasive cleaning tools, like steel wool or hard-bristled brushes, on acrylic tubs. A mesh sponge works best, or you can use soft cleaning rags. If you see mineral deposits, mix equal parts vinegar and water and apply this to the marks. No matter which cleaning method you choose, always rinse the tub well with warm water when you're finished. You can wipe it down with clean, soft towels; microfiber cloths are suitable.
Should I Use Bathtub Wax?
If you want your acrylic tub to look even cleaner and shinier, you can apply acrylic car wax every six months. Clean the tub first and wait until it dries. Next, dip a clean, soft cloth into the wax and apply a thin layer to the bathtub. Work it in until the whole tub is covered and buff it out with another clean cloth, working in circular motions. Not only will this make your tub look brand new but it will also have better water resistance moving forward.
If you don't want to buy car wax for your tub, you can buy acrylic waxes that aren't explicitly designed for cars and trucks. Be sure to read the product description carefully because some of these may not work well on bathtubs. It's also a good idea to test acrylic cleaners and waxes in inconspicuous areas to ensure that they don't damage the surface.
Is My Tub Fiberglass or Acrylic?
Determining whether you have an acrylic tub or fiberglass tub can be difficult. Look closely at the tub's edges; the tub is likely fiberglass if they are thin. Acrylic tubs are thicker throughout and are less likely to develop hairline cracks. In general, fiberglass is usually 1/4 inch thick, and acrylic is 3/8 inch thick. Acrylic tubs cost more but are more durable and last longer, usually 15 to 25 years, and fiberglass tubs won't last more than 15 years.
Avoid using abrasive cleaners on fiberglass surfaces too, as they can cause damage. To clean a fiberglass tub or shower, rinse the surfaces with hot water. Then, you should combine equal parts of vinegar and water and add two drops of dish soap. Pour this into a spray bottle. Add water to a cup of baking soda until it forms a paste and cover the tub and walls with this mixture. Spray on the cleaning mixture, wait 15 minutes, wipe off with a soft sponge and rinse well.