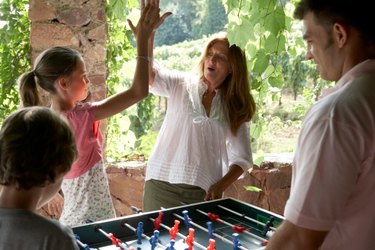 A girl of 9 no longer sees herself as a child. Your 9-year-old's growing independence and confidence means she will have her own ideas about her birthday party. Use positive parenting and listen to her needs while maintaining any rules you may have. A 9-year-old is still quite young and needs parental guidance. However, this birthday party is for her, so work together to create the best party ideas for your child.
Locations
Choose a location that expresses your child's personality and where it's just plain fun. Your home is fine for her party. Other simple locations for a 9-year-old's party are the local movie theater, a tea house or cafe or a park. Girls this age love the mall, and a party that incorporates the mall might work for your child. Ask her what she wants from her party and choose a location accordingly. Bigger budget locations would be a skating rink, the zoo, a museum or miniature golf facility.
Themes
Once you set a location, create a theme that ties your party together. A home party can be any theme, while a specific location typically sets the theme. For example, a roller skating party would have a roller skating theme, but you can create a "Xanadu" 1980s party or a 1970s roller disco party. A 9-year-old may even want her first slumber party. Choose themes from favorite books, colors, animals or seasonal references. For example, a Hawaiian luau party is ideal for a summer birthday.
Invitations
After setting your theme, construct your own invitations with your child. Cut roller skates from construction paper for a roller skating party, and cut out teddy bears for a fun slumber party invite. Use animal shapes for animal theme parties, and send out plastic coconut cups with a paper invitation inside for a Hawaiian luau party. Keep your invitation simple and be sure to get approval from your 9- year-old.
Activities
Decorating T-shirts and making friendship bracelets are simple birthday activities for your 9-year-old girl's party. Scrapbooking and spa treatments would be appropriate for a slumber party. A mall scavenger hunt would work for a party at the mall, and watching a movie or DVD together is fun for 9- year-olds, too. A fashion show and karaoke singing are more fun ideas for a girl's 9-year-old's birthday party.
Food and Cake
Independent 9-year-olds enjoy deciding their own party foods, and you can turn the party food into a fun activity. Guests will enjoy making personal pizzas and decorating cupcakes with their own toppings. Cutting out shapes in sandwiches with cookie cutters is also fun. Provide healthy snacks for a slumber party. Decorate sheet cake with plastic figurines to tie into your theme. Chocolate fondue with fresh fruit is another party food that is also an activity. Ask parents beforehand if their child has food allergies.