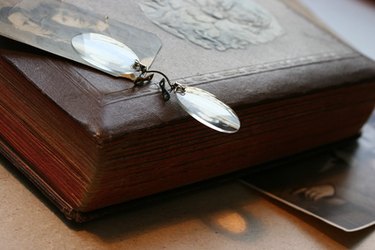 Dad's 75th birthday is an important event in his life as well as the lives of his family and friends. The type of celebration is best determined by Dad's personality and the way he has lived his life. The 75th birthday is a milestone event and requires advance planning. The entire family and some close friends need to be actively involved in the planning and the implementation of the celebration.
Dad's History Album
Children and grandchildren might know little of the life of the guest of honor except in the role of father or grandfather. Assign them to look up old classmates, fellow workers, close friends or relatives with whom he has been out of touch for years. The kids and grandkids can share information and build an account of his life from as far back as possible. Collect at least one newspaper headline for each year of Dad's life. Assemble the photos, headlines and other hard material in an album and include written personal remarks from relatives and friends. Celebrate by reviewing his life and presenting the album to Dad.
Surprise Birthday Dinner Party
Plan a surprise birthday party. Tell Dad you are taking him to dinner on his birthday. Invite his closest relatives and dearest friends well in advance and make it a suit-and-tie event. Make reservations at his favorite restaurant at least six weeks in advance. Notify the restaurant manager of the party and book a smaller room off the main dining area or an arrangement of tables as far as possible from the main dining room. Tell the restaurant manager someone will be there early to set out name tags and party favors for each guest. Also, the birthday party will sing, cut a birthday cake and present gifts. Tip the restaurant generously for these concessions. Have a plan in place for guests to rotate seats that are close to Dad so he can visit with everyone. Afterward, invite everyone for drinks at home.
Dad's Favorite Activities
Everyone has a favorite activity, be it as simple as reading a book or following or playing a sport. Decorate the party area with the appropriate paraphernalia and music to support his particular interests. Close relatives and dear friends can come dressed in the style of his favorite activity. Design the cake and gifts to reflect his interests.
Birthday Block Bash
Invite everyone on the block to the party. The object is to get relatives, friends and neighbors together to meet and wish Dad the biggest and most interesting birthday of his life. The invitation should state that a gift is not necessary but bringing a favorite dish to share would be appreciated. Dad will be the center of attention and visit with old friends and meet new ones. His closest friends and dearest relatives will be there to support him. Have some activities planned, such as volleyball, baseball and a colorful pinata to keep the kids occupied.