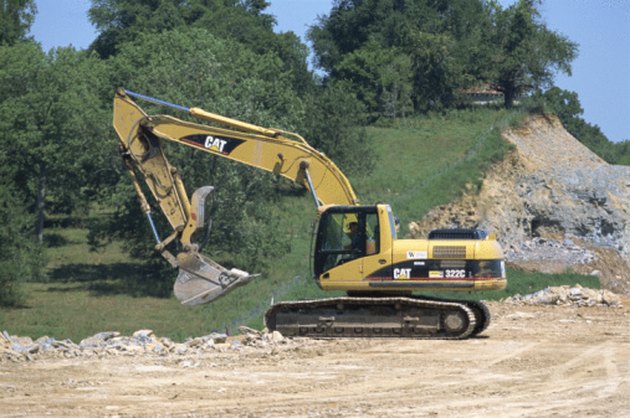 Backhoes make yard and garden development easy, allowing the heavy machinery to do the heavy lifting of large amounts of dirt in much less time than the homeowner could manage with a shovel. The 580 Loader Backhoe, which was produced in several models, is small enough to work in medium-size back yards but powerful enough to handle tough jobs over very large areas.
Dimension
The dimensions of a loading backhoe like the Case 580 series determine, to a large extent, the torque, lift and overall power of the machine. These dimensions vary according to model with the Case 580 Super M Series III measuring 22.8 feet long by 7.2 feet wide by 10.8 feet high while the later model Case 580 M Turbo measures 23.2 feet long, 7.2 feet wide by 10.8 feet high. The ground clearance on both models is 1.2 feet, making it ready for most yard work and giving it a low center of gravity. The maximum weight capacity for the 580 Super M Series III is 17,545 pounds, while the Case 580M Turbo can handle 16,510 pounds maximum.
Power
Power in the 580 backhoe is measured in different ways. The 580 Super M Series III features a four-cylinder 272 CC engine while the Case 580 Super N WT has a more robust four-cylinder 274 CC engine. Although one engine is bigger, the power measured by rpm is the same with both measuring 2200 rpm maximum with 1400 rpm maximum torque power. Both engines are supercharged and while the 580 Super M Series III is capable of moving forward at 26.1 mph, the 580 Super N only runs up to 24 mph.
Fuel
Like most heavy-duty equipment, the Case 580 loader backhoe requires a great deal of fuel. The 580 Super N WT features a 42-gallon fuel tank while other models such as the 580M Turbo feature only a 31.4-gallon capacity.
Transmission
The 580 Case loaders all feature four forward gears with most also featuring four reverse gears. Case 580 M model loaders use a four-speed synchromesh transmission with hydraulically actuated clutches while N model 580s use an electronic Powershift Transmission unit.
Bucket
Of course, one of the most important parts of any loader is the bucket. Bucket capacity on the 580 series loaders ranges from 0.87 cubic yards in the 580M Turbo to a full cubic yard on the Super M Series III. Light capacity is the same 6,182 pounds maximum at full height with maximum reach at dump height ranging from 2.2 feet to 2.5 feet depending on the specific model.