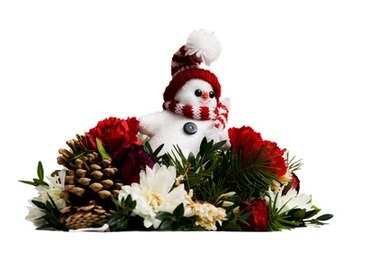 Church events and activities are most rewarding when they involve all of the members of the congregation and give them an active role to play. A spirit of community and sharing is what draws many people to church functions. Even the process of decorating tables for events can be enriched by inviting those who will attend to participate.
A Personal Touch
A simple way to create table centerpieces that are both artful and meaningful is to invite church members to each bring an object that is important to them to include in the centerpiece. This works well during holidays, since most people have some ornament or decoration that carries special meaning for them. After each person has placed their objects on one table, ask everyone to choose an object that they find interesting or beautiful to bring to their table and add to the centerpiece. At the end of the event, invite them to find the owner of the decoration they chose and return it to them. This activity encourages everyone to mingle and sparks interesting conversations.
Light A Candle
Candles are commonly used to provide pleasant lighting and add elegance to table decorations, but they can take on additional meaning when they are lighted not before, but during the event. Place one candle for each seat at the table. Be sure to use holders or cups under the candles to protect the tablecloths. When inviting the participants to light the candles, ask them to say a silent prayer for someone in need or give thanks for someone important to them.
A Centerpiece That Gives
As an alternative to a lavish table decoration, an empty box can serve as a meaningful centerpiece. Before the event, ask those who will attend to bring something to add to a care package. Tell them who will be the recipient of the package and provide ideas for filling it. The packages may be sent to missionaries or soldiers overseas or to local people in need.
Flower Raffle
When the budget for decorations is tight, it's still possible to provide elegant and beautiful table decorations by hosting a raffle. Purchase flower arrangements for each table. Invite the people who attend the event to make bids for the flower arrangements at their tables. They can then take home the arrangements, which allows someone to enjoy the flowers rather than letting them go to waste, while saving money for the church.