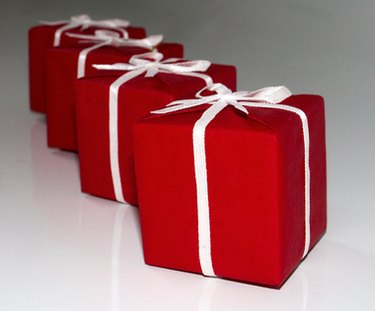 Gifts for a 1-year-old granddaughter are really gifts for her parents and grandparents to enjoy, unless you give her presents that are meant to last beyond the toddler years. She'll quickly outgrow any clothing you give or lose interest in toys. Since most 1 year olds won't remember their first birthday, or the presents they received, give presents that will keep giving for many birthdays to come.
Savings Account
Start a savings account for your granddaughter on her first birthday. Put a sizable amount of money in there to start, based on what you can afford, then continue to build the savings account each year, either by adding a small amount weekly or by depositing larger amounts on her birthday and other special occasions. She won't appreciate the account now, but she probably will when it is time to go to college or make another large financial investment. Talk to your financial advisor about what sort of account will earn the most over time.
Pretty Pictures
Hire a photographer to take pictures of your granddaughter on or near her first birthday. While she may not appreciate baby pictures just yet, her parents will and she will grow to appreciate them when she is an adult. Make the pictures even more special by getting in the photographs with your granddaughter. Frame an 8-by-10 or 9-by-12 print and wrap it up to give to your granddaughter and her parents at the birthday party. You may also want to include a CD of the digital picture files.
Birthstone Necklace
A birthstone necklace is a way to let your granddaughter know you think she is special. She'll love that the necklace sparkles and shines. Look for a pendant that is large enough not to be a choking hazard and choose a well-made pendant that isn't too valuable. For instance, silver may tarnish over time, but platinum is too expensive to give to a baby. As she grows, you can buy a new chain to hang the necklace on so that she can continue to wear it if she likes. You may wish to give your granddaughter a keepsake jewelry box to hold the necklace. She'll be able to add to her jewelry collection as she grows up.
Books
Give your granddaughter classic children's books and write a thoughtful inscription in each one. When you come over to see her or to babysit, you can read the books to her before bedtime. If you write a dedication on the front pages, she'll be more likely to hold on to the books throughout life, as they have sentimental value, and may even read them to her children one day. You may also consider making a scrapbook, filled with pictures and mementos from your granddaughter's first year.