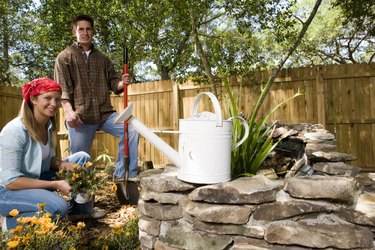 With overalls, rubber shoes, garden gloves and a hat, dressing like a gardener is as easy as picking peas for your stir-fry meal. But with a little extra effort, you can add cute and zany accessories to bring a bit of creativity to your gardener costume for your next costume or Halloween party.
Gardeners wear just about any type of comfortable clothing. When kneeling a lot in a flower or vegetable bed, gardeners wear long pants with extra padding that protect their knees.
A straw hat, flannel plaid shirt and bib overalls works for a gardener costume. To add some creativity to your gardener costume, women and girls can wear tops and hats with appliques of butterflies, ladybugs, honeybees and flowers. Men and boys or even the gals can wear a t-shirt with text and images.
Gardener T-Shirt Statements
To add a bit of creativity to your gardener costume, create an iron-on transfer for a t-shirt with a saying that appeals to you such as: "Dig It," "All Things Grow With Love," "All I Need to Know About Life, I Learned From Gardening," "Compost Happens," "Cares Melt When You Kneel in A Garden," "Adopt the Pace of Nature, Her Secret is Patience," or "Callused Palms and Dirty Fingernails Precede a Green Thumb."
Similar to the t-shirts that say "Wine Snob," replace the word "Wine" with your favorite garden product such as "Tomato Snob," or "Corn Snob." Add a picture of the vegetable, fruit, herb or flower to your "snobby" saying.
Create your own t-shirt gardener sayings by creating an iron-on transfer using your computer, a word processing or photo-editing software, your inkjet printer, an iron and ironing board. Make certain to pick up the iron-on transfer product that matches your computer at a local superstore or office supply store.
With your photo editing or word processing software, type the saying into your program and add the image, if desired, and then reverse it by creating a mirror image so that the words won't be backwards on your t-shirt. Print the text and image onto regular paper and make any adjustments that are needed before printing on the iron-on transfer paper. Set the t-shirt on the ironing board and position the transfer where you want it. Iron it on at the recommended heat setting for the fabric and the transfer product.
Wear gloves with enough dexterity for sipping cocktails and balancing hors d'oeuvres or sorting trick-or-treat candy and playing harvest festival games. Women's standard garden gloves often come with floral or garden-tool prints, whiles men's tend to be plain. For a costume, think well-fitting comfort. Plain cotton gloves can fill in for costume garden gloves. For "green thumb" fun, leave the gloves white, except for the thumbs, which you paint green with fabric paint, or you can dye the gloves green. With fabric paint or ink, add a garden-friendly print to your gloves.
Costume Gardening Hats for the Gals
Decorate a broad-brim, floppy hat with artificial flowers and pollinating insects such as honeybees or butterflies. Apply the bugs to the hat using a hot-glue gun. Put your silly on by adding a few flowers on tall, bendable stems to the hat.
Glue or pin toy insects such as honeybees, ladybugs or butterflies to the flowers. The bees and butterflies can be replicas of the real things or they can be toy ones with cute faces and eyes that move with the flower.
Things You'll Need
2 green pipe cleaners

Artificial flower with 4 petals, any color

Garden hat with band or scarf, bandanna or other material tied around the crown
Prepare the Pipe Cleaners
Twist the two pipe cleaners together to form one of a similar length. Fold the tip one-third toward you and downward.
Place the flower with its front facing toward you into the folded part of the pipe cleaners. Wrap the remaining length of the folded stem back and around the flower to secure it. Separate the two ends at the top of the stem, spreading them out and bending the tips into curls to form the butterfly's antennae.
Insert the bottom of the stem between the hat's crown and band. Fold over the outside of the band to secure it or attach the stem to the band or hat crown, using a hot glue gun.
Costume Gardening Hats for the Guys
Instead of flowers, attach artificial insects – spiders and snails for example -- to the hat. Gather up toy bumblebees, spiders, snails, caterpillars and whatever else you can find at a dollar-type store, toy store or craft store. Funny-faced critters add humor to your costume. Adheres felt, plastic or rubber bugs to your hat or hat band with fabric glue.
Tip
Many artificial flowers come on plastic stems. Wrap green pipe cleaners around the stems for extra strength and flexibility. As you move around, the flowers will gently nod.