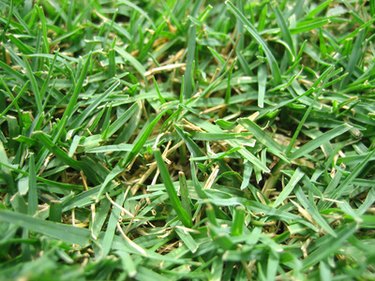 Hunter green carpet may seem dark, overpowering and a little too "loud" in many rooms. But considering that replacing your existing carpet can cost you a lot of money, think about changing your wall color to tone down your carpeting. A new, fresh coat of paint may not only perk up your room a bit, but it may even make you love your hunter green carpet.
Creams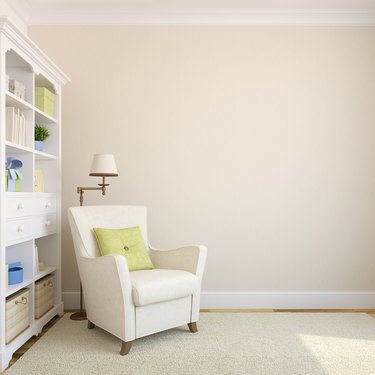 Choosing a light cream color for your walls will not only go well with the hunter green carpet, but it also will lighten up the room. This is especially important in rooms that have little light or in rooms that are facing the north, south or west sides of the home. An off-white, winter white, cream or light beige will brighten your room while complimenting your green carpet, nicely. Make sure your trim--- wainscoting, chair molding, shoe molding or crown molding---is painted a bright white to keep the room light and airy. Keeping your furniture in cream shades also will help to brighten the room, but you can add hunter green pillows or throws to tie in the green.
Earth Tones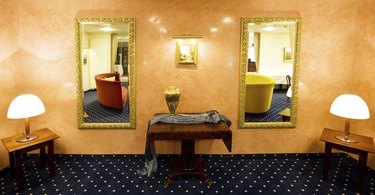 Tans and gold tones compliment green without being too dark. In a room that faces west, or one with a lot of windows, you can consider painting the room in a darker color, without fearing the room will look like cave. For a brighter look, consider painting your walls a light tan color, then accenting your room---drapes/curtains, pillows and throws---in gold. If you are a little more adventurous, paint the room in a deep gold shade, then add light tan accents to balance the dark tones of the walls and carpeting.
If you do not want a room that appears too light or white, and you do not want to risk painting the room too dark, consider light browns. A faint brown with white or off-white trim will actually brighten the dark green color of the carpet a bit. Browns and earth tones work best in rooms with a lot of windows or a room facing east that gets a lot of sun. If you like the idea of a darker room, paint the room a richer color brown, which will give the room a regal feel.
Pale Greens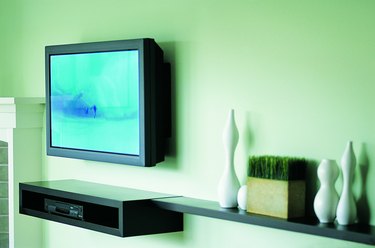 To tie in the green carpeting without straying from the green color palette, try using a pale, mint green on your walls, with white or cream wainscoting to break up the transition from pale to dark green. You may actually find that the mint green walls tone down the deep green carpeting, a bit.
Accent Wall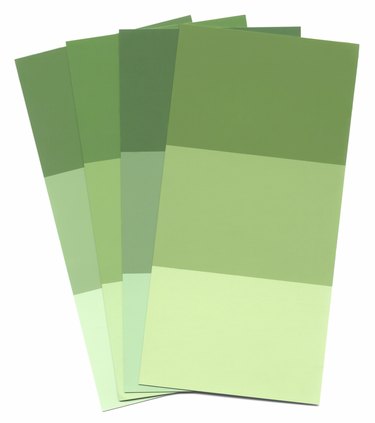 If you like to experiment with color, consider having an accent wall. Paint one main wall in the room a dark accent color---dark brown, tan or even a matching dark green---then paint the rest of the room a light beige color that compliments the accent wall. To avoid the room from being too colorful, make sure your furniture and accents are all a light, neutral color. Accent walls work best in living rooms, dining rooms or family rooms with high ceilings.