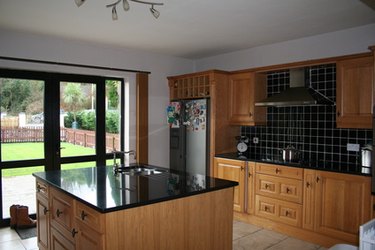 Standard non-custom kitchen cabinetry generally offers drawer widths from 12 inches to 24 inches, increasing by 3-inch increments. If the standard drawers available don't fit into your kitchen design, you can order custom drawers from a cabinetmaker. The cost is usually higher for custom work, but you can get a product made to your exact specifications.
Size
The National Kitchen and Bath Association recommends that kitchens with less than 150 square feet have at least 120 inches of drawer or roll-out shelf frontage. For kitchens larger than 150 square feet, that number increases to 165 inches. These are general guidelines that homeowners can adapt to fit their specific floor plans. Most kitchens contain a variety of drawer depths to accommodate different storage needs. Shallow drawers can hold utensils, potholders and other small, flat kitchen items. Deep drawers work well for stacks of linens or large pots. Evaluate your storage needs before choosing drawer sizes to make sure you have adequate drawer space in your kitchen.
Types
Kitchen cabinetry is available in a range of styles and materials. Low-end drawers and cabinets are often made of plywood or medium-density fiberboard. These often come with a thin wood veneer on the face of the drawer to simulate hardwood. Some manufacturers use these inexpensive woods on the inside of cabinets and drawers but use solid hardwood for the fronts. High-end cabinetry is generally solid hardwood throughout, and the elevated cost reflects the craftsmanship.
Replacement
When replacing existing drawers, it is important to get exact measurements to ensure proper fit and function of the new drawers. Measure the drawer fronts as well as the drawer boxes. The width of the drawers must remain the same unless the entire cabinet is being replaced, but the height of each drawer and the total number of drawers in a cabinet is adjustable. Three deep drawers might take the place of four or five shallow drawers, for instance. Adjust the measurements to accommodate the different number of drawer fronts, and make sure there is room for each drawer to slide easily on its runner.
Considerations
When designing a kitchen, placement of drawers is important. Consider where the logical place would be to keep certain kitchen items, and arrange to have storage there. For example, a drawer for potholders is useful near the oven, while a drawer for dish towels is more convenient by the sink. Wide drawers can hold long rolls of plastic wrap, and narrow drawers might contain knives that are more safely stored away from other utensils. Careful thought and planning can produce a well-designed kitchen that is a pleasure to use.