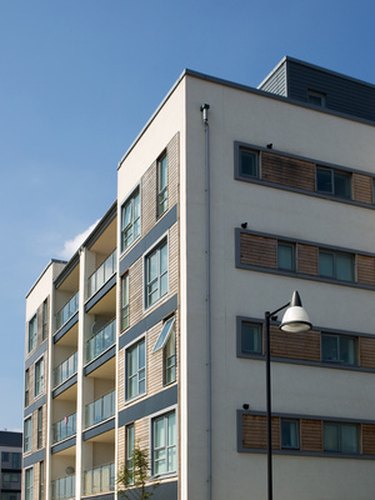 One of the easiest ways to protect your investment in a building is to maintain its roof. Water damage from a leaky roof can destroy the structure, insulation and electrical systems. Flat roofs rely on a continuous membrane covering for its waterproof seal. An elastomeric coating is one such system.
Elastomeric Defined
Elastomeric roof coating is an acrylic latex spray-on product that has several different uses in roofing systems. It is typically white in color to assist in reducing the heat buildup in roof structures. It can last up to 20 to 50 years if properly applied.
Flat Roof Application
Used in polyurethane roofing systems, elastomeric coatings provide the continuous water barrier needed for a successful flat roof. This is a spray foam type roof that will add a thermal barrier to structure as well.
Metal Roof Application
Apply elastomeric coatings to metal roofing systems to significantly reduce their surface temperature. The coating can reflect 80 percent of heat and ultraviolet rays from the sun, which will reduce the building's air conditioning costs. It also has the added benefit of extending the roof's lifespan due to its ability to reduce the heat stress on the roof structure.
Other Benifits
Other benefits of elastomeric coating is that it remains flexible below freezing, is resistant to hail impact, is nonflammable, is easy to apply and has excellent adhesion to different roofing products.