Things You'll Need
J-channel

Hammer

Galvanized roofing nails

Utility knife

Tape measure

Pencil

Vinyl siding panels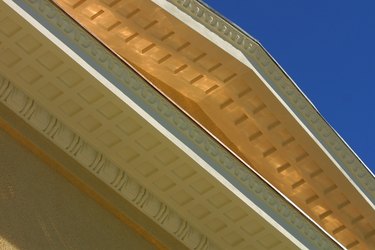 Vinyl siding is one of the most affordable types of siding you can choose to install on the exterior of your home. It is consequently one of the easiest to install as well, making it ideal if you are a do-it-yourselfer. The process for installing the vinyl siding on the underside of the eaves and overhangs of the roof where it meets the house is straightforward. Use the same tools you would have used for the vinyl installation on the side of the house.
Step 1
Install J-channels on both sides of the overhang. Nail the channel along the edge of the house on the wall just underneath the eave or overhang, so that the hook part of the J is facing outward, away from the house. On the opposite side of the overhang, nail the vertical section of the J-channel along the edge of the roof, so that the hook section of the J hangs down under the edge of the overhang.
Step 2
Measure the distance between the two vertical sections of J-channels with a tape measure, and subtract a quarter inch from this measurement. Mark a piece of vinyl paneling, using a tape measure and pencil, and cut it with a utility knife. Slide it into place so that it locks into the hooked sections of the J-channeling.
Step 3
Continue cutting pieces to fit using the same measurement, or adjust if necessary, if you are dealing with out-of-square building. Attach the vinyl sections to each other with the tongue-and-groove system for the eave pieces and slide each piece into place so that it locks within the J-channeling on either side of the overhang, holding the pieces in place.
Tip
Ensure there is at least a quarter of an inch of play between the two sections of J-channeling to allow for seasonal movement of the home, as well as shrinking and expansion during the cooler and warmer months of the year. If you cut the panels tight to the J-channels, you will see the vinyl buckling in the warmer months and eventually cracking out.