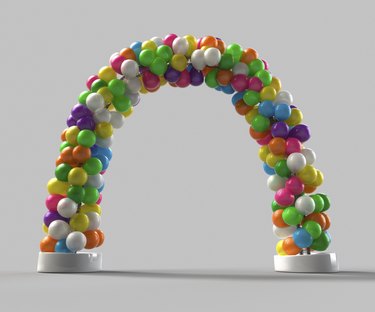 A balloon arch can add style, color and flair to any gathering from weddings to baby showers to birthday parties. The arch brings focus to an important area, whether an altar, the party's entrance or a particular table you want to draw attention to. Build an inexpensive balloon arch with materials you can find at any hardware store.
Make the Balloon Arch Base
First, you'll need to make the base to support your balloon arch. You have a few ways to do this:
Umbrella Stands You can re-purpose the bases of two umbrella stands to support your arch. Remove the umbrella poles and it's ready to use.
Buckets You'll need two large buckets with lids. Cut 3/4-inch holes in the middle of each lid. Fill the buckets half way with sand or pebbles to weigh them down.
Wood blocks Drill a 1/2-inch diameter hole in the center of two 4-by-4-by-10 inch wood blocks. You can pack sandbags or other weights atop the wood blocks to keep them in place.
Prep the PVC Pipe Arch
You'll need 1/2-inch diameter polyvinyl chloride pipe long enough to create the arch. You can find it at hardware and home improvement stores in 10- and 20-foot sections. To glue sections together, based on overall arch length, use PVC connects and PVC glue or cement. Insert the ends of your arch into arch bases. If using the wooden block bases, also glue each end of the PVC pipe into wooden blocks with PVC glue. Let the glue dry before adding balloons. Set up the arch where you plan to use it before attaching balloons. Once the balloons are attached to it, it is not as easy to move.
Attach the Balloons
The size of the balloons is entirely up to you. The larger the balloon, the fewer you'll need to cover the arch. While 11-, 14- or 16-inch balloons work the best, figure about six balloons per foot of arch. Blow up balloons using an air compressor, helium or lung power, making every balloon the same size. After blowing them up, tie the ends of two balloons together. Repeat this to create multiple sets of two balloons. Tie two sets of balloons together so you have a group of four balloons. Secure balloons to the arch by twisting two of the balloons around the PVC pipe at one end. Continue adding balloon clusters until the entire pipe is covered.
Tips and Tricks
If it's windy out, you may want to secure your arch on either side with fishing line to keep it from tipping over. Tie fishing line around the PVC pipe and tie it to a secure structure or a drive a stake into the ground to secure it. Have extra balloons on hand in case some pop while making the arch. If one pops later on, replace it by twisting another set of two balloons around the pole in its place. Use different colored balloons to create patterns in your arch. Draw a picture of the pattern before you start so you'll know where each color will go.