Baked brie can be prepared ahead of time and kept in the refrigerator for a day or two before baking. Freeze it for even longer storage. Brie wrapped in pastry dough, called brie en croute, is an elegant appetizer suitable for dinner parties, hearty enough for game day and satisfying enough for family meals in front of the TV.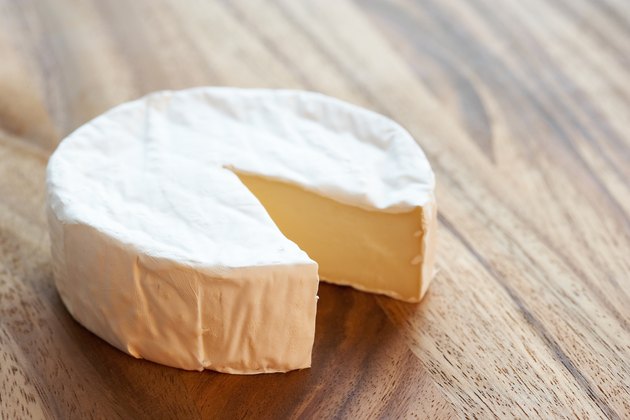 Puff Pastry
Brie baked in golden-brown puff pastry makes an elegant presentation. Keep dough in the refrigerator until immediately before baking. Chilled puff pastry will puff highest and fluffiest when it is chilled rather than frozen or at room temperature.
Phyllo Dough
Handling phyllo dough might seem a little tricky at first but the secret is to wrap one layer of dough at a time and keep the rest of it moist until it is used. Brush each layer with melted butter or olive oil before adding the next. Make sure any tears in the phyllo dough are covered by the next layer to prevent the brie from leaking as it cooks.
Pie Crust
Wrap pie crust -- homemade or store-bought -- around the wheel of brie and trim excess crust. Use it to make decorative cutouts for the top of the brie en croute.
When decorating a baked brie with cutout designs, be sure to affix them to the top surface of the crust covering the cheese. If there are any loose seams, cracks or decorative cutouts made directly into the doughy wrapping, the cheese will leak as it melts during bake time, leaving a greasy, misshapen appetizer -- delicious but not so pretty.
Use egg wash or milk to "glue" the cutouts onto the top surface of the crust before baking. Brush these liquid ingredients into any seams or cracks to seal them tightly. Borrow this idea to seal and decorate baked brie covered with puff pastry, too.
Pizza Dough
With a texture between puff pastry and pie crust, pizza dough makes a delicious wrap for baked brie and it is very easy to work with.
Bread Bowl
Cut a lid off the top of a round loaf of bread that is a couple of inches larger than the wheel of brie. Scoop out the inside of the bread, leaving a bowl that is about an inch thick on all sides. Place the brie in the bowl, replace the lid and store as desired.
Filled Baked Brie
Fillings of fresh fruit, sugar, chutney, preserves, marmalades and the like are popular with baked brie but should not be prepped in advance. The moisture from the filling will make the dough soggy and discolored. Serve these condiments on the side when prepping brie in advance.
Refrigerate
Place prepped brie, unwrapped, in the refrigerator long enough to firm the pastry, about 30 minutes. Once the exterior is set firmly in place, it can be sealed in plastic wrap without disturbing any decorative finishes. Refrigerate a day or two before baking.
Freeze
Place prepped brie in the freezer to set and follow wrapping instructions for refrigerating it. Keep frozen, tightly wrapped in freezer-proof plastic wrap, for as long as two months. Thaw overnight in the refrigerator before baking.