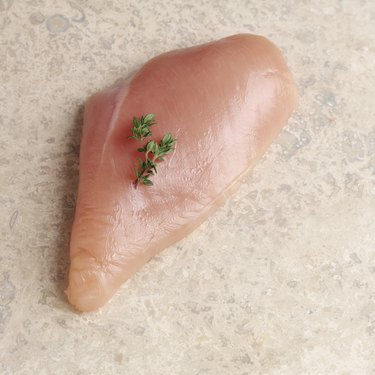 Forget heavy Italian pasta dishes. Chicken piccata is a light, quick dish, elegant enough for entertaining, but simple enough for a weeknight meal. Imbued with lemon juice, garlic and capers, chicken piccata has a fresh flavor. You can cook it ahead of time, but you probably don't need to.
Taste
You can certainly make chicken piccata ahead of time and reheat it right before serving. But chicken piccata is known as a light, bright dish with its garlic and lemon sauce. Cooking it ahead of time might reduce that fresh taste slightly. And, chicken piccata cooks in a flash -- ready in less than 10 minutes. A better option might be to prepare the chicken breasts and ingredients ahead of time, refrigerate them and cook everything at the last minute.
Method
To cook chicken piccata ahead of time, season flour with salt, pepper and a bit of thyme. Dredge the chicken cutlets in the flour mixture and brown the chicken in hot olive oil on the stove. Continue cooking until the chicken is cooked through and reads 165 degrees Fahrenheit on a meat thermometer. Depending on the size of the chicken pieces, this can take from eight to 15 minutes. Remove the cutlets from the pan and put them on a serving plate. Add some butter to the pan and saute the garlic and capers together. Add a little lemon juice, chicken broth and parsley and heat to almost simmering. Pour the sauce over the chicken piccata and cover and refrigerate until serving time. To reheat, microwave the chicken for two to three minutes, or reheat it in a skillet.
Food Safety
When making chicken piccata ahead of time, follow the same precautions you would for refrigerating leftovers. First, make sure the chicken is completely cooked through. The flesh should be white and the juices should run clear. A meat thermometer inserted in the chicken should read 165 F. Cover and refrigerate the dish immediately or within two hours, at the most. When reheating, bring the chicken back up to a simmer to kill any bacteria. Use the chicken piccata within three days.
Tips
To speed up the cooking process, use thin chicken breasts that are only 1/4 to 1/2 inch thick. Slice thick chicken breasts in half and place the pieces between plastic wrap or parchment paper. Pound the meat gently with a meat mallet or go over them with a rolling pin. Be careful not to tear the meat. Discard the plastic wrap or paper and cook the chicken cutlets.