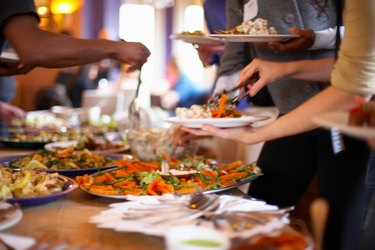 Buffet foods for a rehearsal dinner need to be easy to eat to allow wedding party members up to mingle at the dinner, which helps everyone gets comfortable with each other before the wedding. Going buffet also means there are different options, so hungry ring bearer or dieting maid of honor, everyone has something to eat. The best buffet foods are finger foods, or foods that do not require cutlery to eat. The second best type of food is bite-size foods, or foods that only require a spoon or fork to eat. For the best taste and price, create your rehearsal dinner menu out of items that are in season. In-season items tend to be grown naturally, so they are apt to cost less and taste better than greenhouse products.
Winter
Winter buffets usually consist of mainly hot foods that help warm up guests against the chill of the outside air. Bake seasoned beef meatballs in a sour cream sauce to create hearty Swedish meatballs. Serve the meatballs with hot butter rolls and mashed potatoes with celery root if you need to feed plenty of ravenous groomsmen and bridesmaids. Combine tangerines, Clementines and oranges to create a refreshing citrus fruit salad instead if you're rehearsal dinner includes a small group of light nibblers. Serve chocolate cake with a mocha frosting for a decadent dessert or stick with date cookies for a simple taste. Either way, the little ones in the wedding party will be delighted at having a dessert.
Spring
Springtime buffets have lighter, fresher ingredients than winter buffets. They also tend to include cold and warm foods instead of hot. Saute shrimp in butter and pepper for a spicy, light treat. Pair the shrimp with a light salad consisting of lettuce, pineapple, bamboo shoots, onions and water chestnuts for a tropical twist that fits well with a tropical themed wedding. Mix apricots and honeydew balls with cherries for a sweet springtime fruit salad that gives dieting wedding party members something to munch on. Dip strawberries in chocolate for an elegant dessert that reflects the fanciness of your coming wedding, or serve strawberry cobbler for a home style dessert that reflects the family aspect of the rehearsal dinner.
Summer
Summer buffets are filled with cool, fresh foods that hold up well reasonably well against the heat. Layer a tray with sliced lunchmeats, cheeses and fresh vegetables and serve it with mini croissants for a fancy sandwich platter. Select a variety of high-end items, such as smoked Gouda and peppered turkey, if you want the sandwiches to have a gourmet twist. Combine tuna, tomatoes and pasta for a healthy, yet filling, dish for health-conscious wedding party members. Stir blackberries and grapes with whipped cream for a light dessert if you're worried about fitting into your wedding clothes. Mix brownies with caramel chips, marshmallows and pecans for a rich dessert if you want to indulge.
Fall
Fall buffets consist of every kind of food at every kind of temperature. Cover slices of turkey meatloaf in home style gravy for a "Thanksgiving" style entree. Pair the dish with chilled cranberry sauce and hot sweet potato fries if you're feeding a gaggle of groomsmen. Combine roasted acorn squash, roasted butternut squash and walnuts to create a warm salad if you're looking at a more intimate gathering. Stuff mushrooms with brie cheese and smoked bacon for a hearty, and finger-friendly, side dish that guests can nibble on during the toast part of the rehearsal dinner. Top the meal off with a cinnamon-pear or spiced pumpkin pie for a sweet treat with a little bite.