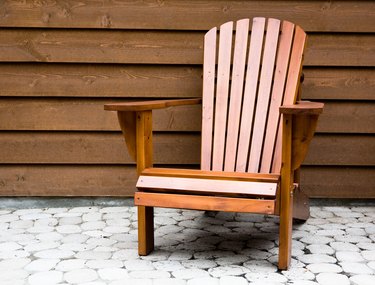 Indoor/outdoor carpet is fade and stain resistant, durable and available in a variety of colors. The carpeting installs quickly on a variety of clean, flat surfaces using carpet adhesive or double-sided tape. However, you cannot install indoor/outdoor carpeting directly on dirt because the adhesive won't harden on surfaces containing debris. The carpeting will also roll up and cause you to possibly trip on dirt floors.
Tip
Sponsored tip: Need tools for your project? Check out RentalHQ and get connected with local businesses that'll help you rent the equipment and tools you need.
Specifications
Indoor/outdoor carpeting contains a rubber backing that provides a layer of cushion to the material. The carpeting consists of synthetic, rubber and plastic fibers but is not as soft as indoor carpeting. You need to apply a layer of carpet adhesive or double-sided carpet tape to the back of indoor/outdoor carpeting so the material won't move, roll up or shift.
Purchasing
Indoor/outdoor carpeting comes in rolls of various size including 50-foot and 25-foot rolls. The carpeting, as well as carpet adhesive and double-sided carpet tape, is available at hardware, home improvement and retail stores. The carpeting and supplies are also available from online outlets, carpeting stores and stores that specialize in outdoor accessories.
Dirt Surfaces
Carpet adhesives cannot adhere to dirt floors, floors containing debris or flooring that's a mixture of dirt and another type of flooring. Even double-sided carpet tape will not adhere to dirt or dirty surfaces. Consider installing plywood or another type of flooring first, then install indoor/outdoor carpeting or use the carpeting in another area of your home or business.
Preparation and Supplies
Sweep the room or area in which you want to install the indoor/outdoor carpeting before bringing in the carpeting. You'll need a paintbrush or roller to apply the carpet adhesive, a utility knife to cut the carpeting and a nose mask and work gloves to keep the carpet adhesive out of your lungs and off your hands. Apply the adhesive first to the floor, then place the indoor/outdoor carpeting on top. Smooth out the carpeting by walking on it, then trim off any excess with your utility knife.