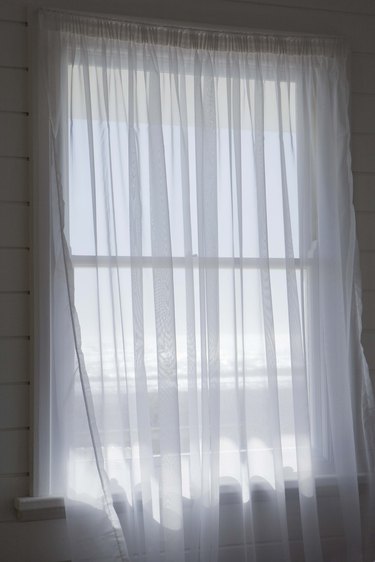 Sheer curtains provide a lightweight, classic window treatment for any decor. They are made from a voile fabric that drapes, gathers and hangs well. Budget-friendly, sheer curtains provide limited privacy while allowing light to filter into a room. Hanging from a single rod, sheer curtains can become a visual focal point. Mixing assorted curtain hardware with a variety of draping techniques creates a one-of-a-kind window treatment on a single rod.
Function
Consider the function of your sheer curtains before deciding which rod, hardware and curtain length to purchase. Hanging sheers in front of a sliding glass door requires a rod that allows the curtains to be easily pulled to one side. Sheer curtains installed on a French door may work better hanging on a small cafe rod over the door's glass. Cascading sheer curtains touching the floor impart a simple, refined elegance to a living room.
Rod
Curtain rods come in assorted sizes, colors and textures. Typically, rods are made of wood, wrought iron, brass, brushed nickel or pewter, and enhance any decor. Rings or sliders attached to the tops of sheer curtains allow ease in moving the folds back and forth along the rod. Sheers can also be shirred in place on rods where you don't want the curtains to open. Cafe curtain rods are round with a narrow diameter and are ideal for small windows or on French doors.
Visual Illusions
Hang a curtain rod close to the ceiling on a tall wall with short windows to create the illusion of taller windows. Sheer curtains cascading from a rod hung near the ceiling down to the floor convey a dramatic elegance. Brown sheers hung against light-colored walls provide a striking contrast. Classic, white sheers give a softer, more romantic ambiance. Windows can appear wider when the curtain rod extends a few inches beyond the window frame. Use twice as many sheer curtains as you need to cover the width of the window to create a full, luscious look.
Draping
Draping a window scarf over sheer curtains provides a design-savvy touch. Using a sheer window scarf in the same color as the sheer curtains, such as white-on-white, provides an aesthetically pleasing continuity to the window treatment. Draping a coordinating colored scarf adds visual interest and color to the room. Add scarf holders to each end of the curtain rod and swag the scarf over the window and through the holders to add a decorative touch.