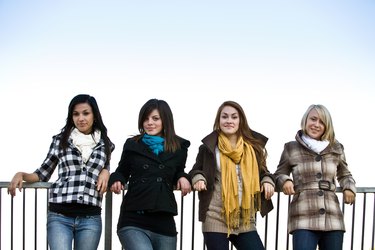 Pea coats are commonly worn by both men and women during the colder autumn and winter months. Pea coats are classic and the style has been around for a long time. While fashionable and warm, pea coats can be lint magnets. This becomes even more of a problem if the pea coat is a light color -- the lint is more noticeable than it would be on a dark coat.
Lint Rollers and Brushes
Lint rollers are inexpensive and can be found at most drugstores. These rollers have sticky tape wrapped around the handle -- roll the tape over the pea coat to pick up lint. Lint brushes also can be used to remove lint from pea coats. Make sure to read the directions to find out which direction you should brush the coat. If you don't want to run to the store to buy a lint roller or brush, try using tape to remove the lint from your pea coat. Press a strip of tape onto the coat and rip off. The more heavy duty the tape, the easier it will remove the lint. Velcro will work in the same way.
Microfiber Cloths
Microfiber cloths that have been dampened lightly with water can be wiped over the pea coat to remove the lint. You may notice that your coat smells once it comes in contact with water -- use a deodorizing spray for clothing on the coat. After wiping the coat down with the cloth, hang it to dry completely before wearing it.
Shaving
You can literally shave the large, fuzzy lint balls off the pea coat with a disposable razor -- just don't press too hard, which can put a hole in your coat. There also are battery-operated shavers designed to be used on sweaters to remove pills. Sweaters are often more delicate than coats, and these shavers will be safe to use on your pea coat.
Dry Cleaner
If you're having too difficult a time removing the lint yourself, the dry cleaner should be able to take care of the problem.
Prevention
Once you've removed all of the lint from your pea coat, you'll want to protect it from getting fuzzies in the future. Reducing the static in your coat will help reduce the lint -- spritz static spray or rub a dryer sheet on the coat to keep it lint-free.