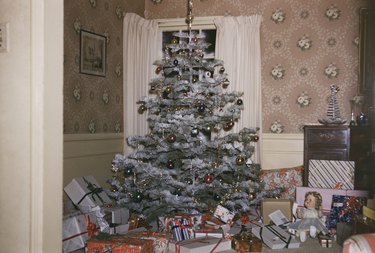 The first artificial Christmas trees were made of goose feathers in the 1880s in Germany, in response to the common, destructive practice of cutting off the top of a fir tree and leaving the rest to die. Fortunately, manufacturers recognized that this practice would soon decimate the tree population, and so the artificial tree was born.
The First U.S. Artificial Trees
The Addis Brush Company, best known for its toilet brushes, was the first to build artificial Christmas trees in the United States, beginning in the early 1900s. By the 1960s, aluminum trees were available, but eventually consumers began to demand more realistic-looking trees. These days, although artificial trees are plentiful and can still be found in odd colors, such as pink, you can find an artificial tree that exactly mimics a real spruce, pine or fir. Assembly has been made easy with color-coding systems.
Types of Artificial Trees
Assemble your artificial tree according to its construction. Most instruction manuals have you begin by opening the included tree stand, then inserting tree sections, starting with the bottom section, before inserting the branches. Some trees include hinged branches already attached to the trunk. These are more expensive but easier to set up: simply open the hinged branches, fluff them up, and you're done. Most trees' branches are flexible enough to bend slightly so you can curve them out and slightly up to help hide the thinner parts of the tree for a more natural look.These trees often come with lights already strung on the branches. Lights may also be color-coded if attached to the tree already. The tree's trunk will be covered with a central electrical harness, into which you plug corresponding wires from the nearest branch. If you have a choice, pick a tree with metal hinges over plastic, as they are sturdier.
Hooked Branches
Less expensive trees include branches that must be manually inserted into slots in the trunk of the tree via small hooks. To help you insert large branches at the bottom of the tree and smaller ones at the top, color-coded spots on the trunk match up with similar colors on the branch ends.
Do it Yourself
If your tree doesn't come with color coding, you may do it yourself by attaching small pieces of different colored tape -- one piece on the trunk, another on a corresponding branch. Next year, assembly will go much more smoothly.