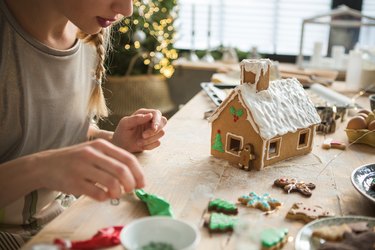 Every household has its own favorite holiday traditions. Yours might be building a snowman, enjoying hot chocolate from a mug rimmed with crushed peppermint, or going absolutely wild with the Christmas decorations. One tradition many of us share is building a gingerbread house with the kids in our lives (decorative ‌and‌ tasty!). If that's your tradition—or you'd like it to become one—we've picked out six of the best gingerbread house kits for you to choose from.
What to Consider When Purchasing a Gingerbread House Kit
Tip
Most kits include pre-baked gingerbread, and some come fully assembled. Always order your kit as far ahead of time as possible, so there will be time to exchange it in case it has broken pieces when it arrives.
It's important to note that there are lots of alternatives to the traditional gingerbread house. You can make up a gingerbread barn instead, or buy kits that use chocolate cookies instead of gingerbread (there's even an Oreo version). While those all have their appeal, this roundup will stick to the classic version. That being said, you'll still have some choices to make when you pick your kit. Some points to consider include:
‌Your Level of Ambition:‌ Do you want your house to be a low-effort project that fits into a kid-friendly span of 30 minutes or less? You can get that. Do you want to spend a couple of weeks before Christmas building and decorating an elaborate house, or an entire village? You can get that too, and anything in between.
‌Your Collective Skill Level:‌ If you've got some definite decorating chops, and you're building the kit yourself as a gift for your kids or grandkids, you can cheerfully opt for a much more elaborate, detailed kit. If the little ones will be doing the work, you might want to opt for something very simple, where "gluing" gumdrops and sprinkles in place is all that's necessary.
‌The Contents:‌ Most gingerbread kits include, at a minimum, your pre-cut walls of gingerbread cookie, a pack or two of icing, and enough candy and sprinkles to decorate the gingerbread house adequately. Deluxe kits have a more lavish selection of decorations, and may even include an entire decorating kit with tools that can be saved and reused each year. You'll also see kits that include boxed mixes so you can bake the gingerbread and mix up the icing yourself, or that consist only of the necessary cookie cutters. As a rule, it'll be a tradeoff between your budget and the contents of the box, but as with any other product, some kits offer better value than others.
Tip
While each kit is reasonably complete in and of itself—meaning you can assemble it with few or no extra tools—putting together a decorating kit of your own can make the job easier and more enjoyable. We'd suggest some combination of the following: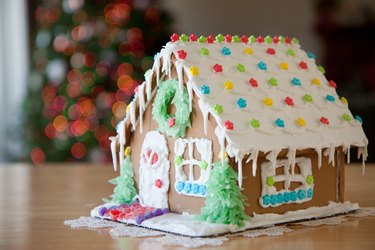 The Best Overall Gingerbread House Kit
The best gingerbread house kits tick a number of boxes. The gingerbread should taste good, it should be easy to build (even, or especially, for kids), it should be big enough to look good on a side table, and it should come with all types of candies and other decorations. This Hasbro-branded kit nails them all, with the added bonus of its tie-in with the much-loved children's game of the same name. The kit is easy to assemble, with a provided base (the "simple tray") to hold your walls in place while the icing sets, and then becomes part of the display. Along with all the candy your little ones could desire, you'll also get a set of cardboard cutouts ("scene setters") in the shape of familiar game characters such as King Candy. It's a bit of a splurge, but its completeness, ease of construction and kid-friendly theme make it a solid winner. The only downside is that you may find you need some extra royal icing to really make it shine.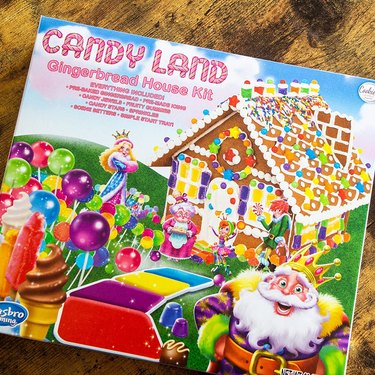 The Best Value Gingerbread House Kit
Our top-pick Candy Land kit checks in at just under 2 pounds, which is satisfyingly large whether your goal is to create a decoration or create a treat (and really, it's both). This Cookies Limited kit (exclusive to Michaels) isn't quite that hefty, at about 24 ounces, but it's a large and abundantly equipped kit at well under half the price. Like the Candy Land kit, it includes a display base, as well as pre-made icing, a piping bag and a generous selection of candies that your small helpers will love. The walls and roof pieces of the pre-baked gingerbread house are tasty and well-marked for easy decoration. It's everything you could ask for in a kit, at a price that encourages buying more than one (so each kid could have their own gingerbread house).
The Most Foolproof Gingerbread House Kit
Williams-Sonoma Gingerbread House Kit
Every once in a while you'll see one company take a different approach to a common product, and you'll slap your forehead and ask yourself "Why doesn't everyone do it that way?" That's the case with this gingerbread house from Williams-Sonoma. With most kits, you'll glue the walls together with icing and cross your fingers while it dries. In this one, the gingerbread house cookie pieces are cut into interlocking notches at the edge (picture the corners of a log house), so even if your little builders are impatient, this one will hold together for you. As you'd expect from the upscale retailer, the rest of the kit is similarly well thought out. It includes generous quantities of gumdrops and other candies, plenty of icing, and not one but two piping bags and tips. The icing is in the form of an icing mix, rather than a premade pouch, so you can make it up in batches rather than committing to the whole project in one sitting.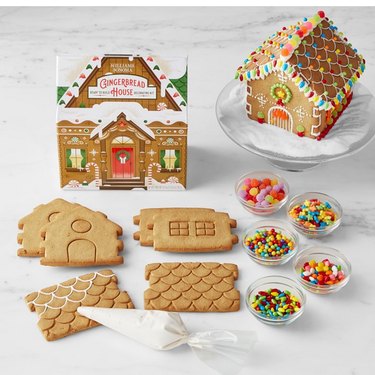 The Best DIY Gingerbread House Kit
If you're a confident baker, there's a case to be made for baking your own gingerbread rather than ordering it pre-baked and hoping it doesn't arrive broken. This deluxe kit from Fox Run is ideal for the DIY-minded, providing enough cutters (18 pieces) to make four separate styles of miniature gingerbread houses, along with two piping bags and two tips. You'll need to bake your own cookie walls and whip up your own royal icing from egg whites and confectioners sugar (or a mix) and buy your own candy canes and decorations separately, but it means your houses will be completely custom (and you'll get to use the kit over and over again, for years).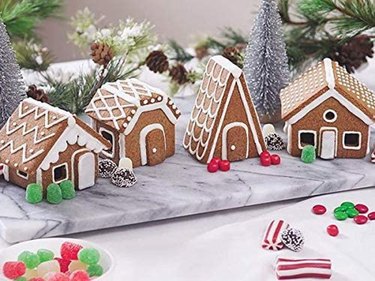 The Best Pre-Built Gingerbread Kit
Create-a-Treat Gingerbread Mansion
If you're the opposite of a DIY type (or just want to skip the tricky building stage with young helpers) the ideal solution is a pre-built gingerbread house. This is about as lavish a kit as anyone could ask, at well over three pounds of holiday season goodness. The main house (mansion) is pre-built when you lift it from the box, so building the decorative gable end is all the assembly that's required. Then you can get straight to the good part, and get decorating! The kit includes a selection of gummies and hard candies in seasonal shapes, as well as pouches of pre-made icing in white, green and red (with interchangeable decorating tips). You'll also get gingerbread man and Christmas tree cookies, and even tiny Christmas lights made of candy. It's everything you need to delight the kids (and grownups), but with a lot less work and patience required.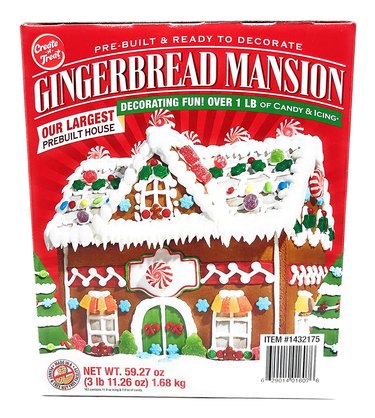 The Best Gingerbread House Kit for Kids
Wilton Mickey & Friends Holiday House
Our top pick Candy Land house would also be a competitor in this category, but if the little ones in your life are big Disney fans (and most are), there's a lot to like about this kit. The finished gingerbread house looks distinctively different from most, with its swooped roof, and the included Disney figures immediately set it apart from other kits. It's well furnished with supplies, including plenty of candy, two colors of icing, three colors of fondant and two piping bags with tips. While the end result is delightfully eye-catching, this one does require a bit more care than some competing kits because of its distinctive roof (it's great for kids, but not necessarily to build with kids). It calls for breaking the pre-baked roof panels into long strips along the baked-in lines, but you'll need to do that carefully. (Tip: Use a sharp serrated knife to cut the lines deeper, and use a straight edge—like a metal ruler—to encourage a clean break.) It's a relatively minor flaw in an otherwise excellent kit.