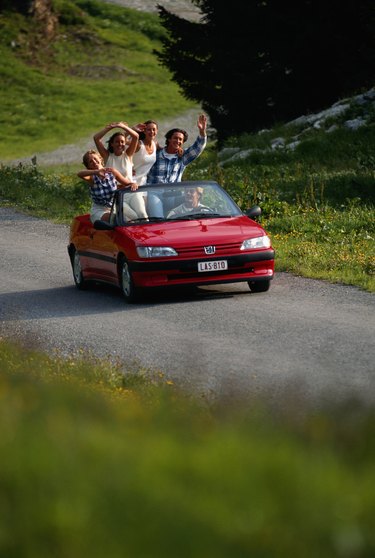 Your 30s are a decade of great years, but they are often wrapped up in work, family and a variety of adult responsibilities. Show the world, or at least your friends and family, just how great the 30s can be with a wild, adventurous or luxuriously indulgent 35th birthday celebration.
Spa
Treat yourself and a group of friends to a massage at a spa, or bring soothing massage to your home with a mobile spa service. If you can afford it, include some extra treatments for a refreshing day of indulgence. Pamper your body from head to toe, from a pedicure to a facial, and then treat the group to a dinner at an upscale restaurant to show off your youthful, radiant faces.
Road Trip
Let your wild spirit loose for a few days of fun and celebrate your birthday on a road trip with a car full of your best friends. Make no arrangements for the trip. Instead, let the wind carry you where it will, stopping to enjoy beautiful scenery, dining in unfamiliar restaurants and sleeping in random hotels along the way. Alternatively, if you are more the organized type, plan a trip through 35 cities, town or villages to commemorate your 35th birthday, with hotel arrangements ahead of time and planned stops throughout.
Scavenger Hunt
Plan a scavenger hunt through your home city and get ready for a day full of laughter and excitement. List 35 things to find on your hunt and arrange for transportation. A small group of friends can hire a limousine to chauffeur the group around the city; larger groups can split into teams and take their own cars. Alternatively, go environmentally friendly and travel by bicycle or on foot through a smaller area, or take the local transit system. Include a few 35-themed items on the scavenger hunt list, such as license plates with the number 35 or receipts showing 35 cents.
Casino Night
Host a large birthday celebration at a rented hall and turn the venue into a casino with 35 gaming tables and slot machines. Ask your guests to come dressed for a black-tie affair and prepare for an elegant evening. Hire waiters to keep drinks and snacks replenished as well as dealers to staff the gaming tables. Provide your guests with gaming chips and award prizes, such as gift certificates and wine glasses, to the biggest winners. End the evening with a 35-question trivia game about the guest and award the person with the most correct answers an extra prize.