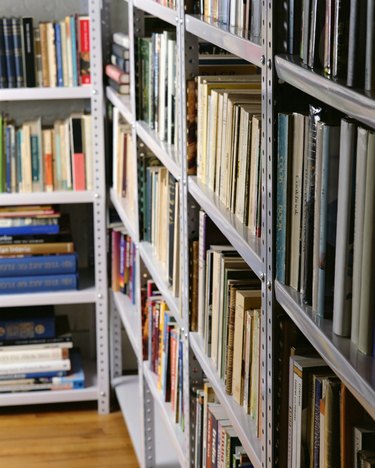 If you've ever tried to move a bookcase that's full of books, you'll know the task is nearly impossible. When full, a bookcase can hold several hundred pounds of books. Though the case can support this weight, the floor underneath the bookcase can be damaged. You can prevent or lessen damage to your floor through several methods.
Weight
The weight of a full bookcase depends on several variables, including the size of the bookcase and the weight of the books. Books can weigh different amounts because of the weight of their pages and covers and their size. When buying a new shelving unit to store your books, read the description of the item to gauge how many pounds of weight it will hold, and then divide that weight by the number of shelves in the unit.
Floors
Over time, a heavy bookcase will sink into the floor and cause damage, regardless of what kind of flooring the room has. Hardwood flooring, vinyl, linoleum and carpet are all susceptible to damage. Ceramic tile is less likely to sustain damage, however, because of its rigidity. When setting up your room, be certain about where you want to place your bookshelves, as the flooring below them might be damaged after they sit in that area for a long time and might have to be covered if you move the shelves.
Solutions
To lessen the damage caused to the floor by a bookcase's feet, visit a furniture store and purchase furniture pads, which are typically round and made of a combination of rubber, felt, plastic and foam. These pads sit under each of the bookcase's feet and help to protect the floor. If you want to build your own pads, cut thick rubber, foam, old carpet or even cardboard to size.
Other Options
If the size of your room will allow, use multiple bookcases to store your books. Through using additional shelves, each shelf will weight less and pose less risk to your floor. To avoid each bookcase looking odd if it's only half full, add other elements, such as framed photos, candles and statues or figurines, to the shelves.