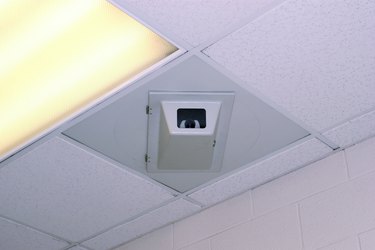 A drop ceiling, also known as a suspended ceiling, drop-down ceiling or false ceiling, is directly installed below the main ceiling. A drop ceiling conceals wiring, piping and ductwork and can provide acoustic absorption, improve heat insulation and disguise a ceiling that's not level. The cost of installing a drop ceiling depends on several factors, including whether it's a project that you do yourself or you hire a professional to complete.
Do-it-Yourself Cost
As of October 2011, materials for installing a drop ceiling yourself in an average-sized room costs about $300. The cost also depends on the kind of drop-ceiling tiles or panels, available in several different textures and styles, that you choose. Additional costs include tools needed to install the tiles. Tools include aviation snips, which cost an average of $10 to $20, and a standard builder's level, which costs an average of $15 to $25.
Professional Installation Cost
As of October 2011, having a drop ceiling installed by a professional costs about $5 a square foot. Aside from the size of the room, the estimate is often based on the type and size of the panels, the ceiling's height and the kind and number of lights on the ceiling. For example, a professionally installed drop ceiling costs an average of $600 or double that for a 225-square-foot room or an average of $2,500 to over $6,000 for a 1,200-square-foot basement.
What's Involved
Drop ceilings are usually installed in the basement to give it a finished look. Drop ceilings are formed by a metal grid suspended on wires or ceiling joists from which tiles and light fixtures are dropped into. Before you install a drop ceiling you must first install a wall molding at the height that you want to install your new ceiling. You must also install the grid suspension system and then insert the ceiling tiles, some of which may have to be trimmed, into place.
Considerations
Installing ceiling tiles, typically 2 or 4 square feet in size, is considered a relatively simple project that takes about two days to complete. Request several estimates from different professionals and make sure to request and check references. Ask about the contractor's experience in installing ceiling tiles, which usually doesn't require a building permit. The professional that you choose to install the ceiling tiles should be bonded, insured and licensed in your state. Find out if there are any complaints about the company by checking with the Better Business Bureau.