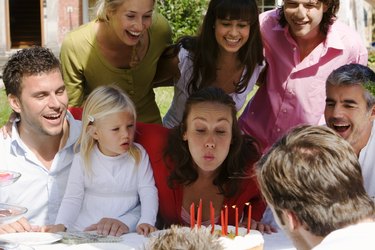 Birthdays should offer the opportunity for you to do what you want. Whether you choose something traditional like a birthday party or something more extravagant and daring like skydiving, include activities you enjoy on your 45th birthday. One of the best ways to ensure you achieve this is to communicate your top two or three picks to your friends and family, who will offer a gift or sponsor your birthday event.
Spa Day
As you age, your skin loses elasticity and tone. Choose to spend part or all of your day at the spa. Opt for a package that includes a relaxing massage, facial, sauna or hot-tub soak and a quiet session meditating to soothing music. Spas offer male and female packages, so don't think this idea is just for the ladies. After a day of pampering, you may emerge from the spa with people telling you that you can't possibly be 45.
Birthday Cruise
Grab your travel bag and hop down to the coast and board a cruise ship on your 45th birthday. Take full advantage of the included activities and ride the waves for four or more days of sun and water. Your package covers meals, room and many activities. You can opt for other activities for additional fees. Invite a few family members or friends to go with you and take advantage of reduced group rates and the enjoyment of traveling with a few people you know. If your birthday is off-season, your ticket will cost less and leave you more funds for optional activities or splurging on the way home.
Road Trip
Take a trip somewhere you have never been or go back to a place you love. Either way, your road trip makes your 45th birthday very special. Depending on the season, your scenery may include beautiful blossoms, colorful fall leaves, beautiful snowscapes or sparkling beaches. When traveling to unfamiliar places, plot your course with a travel service or download travel brochures off the Internet. Take your time and enjoy the trip so you don't come home harried and in need of a vacation from your birthday vacation.
A Day With Friends
Invite a few select friends and enjoy the company of those closest to you. Whether you throw a birthday party with presents, cake and plenty of drink and adult entertainment or you opt for a casual event with hamburgers on the grill and a movie, let your friends know you chose them as your best birthday treat.