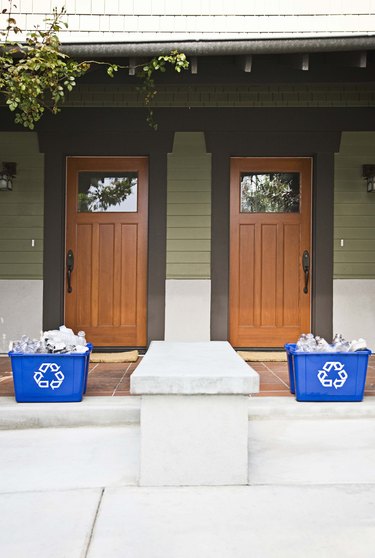 Whether you're dedicated to keeping the color of your sage green siding and you're just looking for a trim color or you're determined to install sage green siding on your new house and you're trying to pick the color scheme for your entire exterior, you have a number of options available to you. By studying the color wheel, you can pick the right color scheme for you.
Cream: The Ultimate Nuetral
Cream and white are standard colors used for trim. In the case of a sage green home, cream trim will usually look better than white because sage is an earthy color and will look better paired with other softer, more earthy colors. White is a little harsh and sterile whereas cream is a more fitting match for sage. The downside to cream is it's also a little dull, so investigate all your options before settling for this color.
Earthy Colors
Earth tones like gray, browns and beige will work well with sage green, especially on homes in wooded environments where the colors all around the house are green and brown as well. Because green is a cool color, stick to browns that are cool themselves, or browns that seem more gray than gold.
Other Shades of Green
Combine various shades and tints of sage green to create a matched color scheme. For example, if your overall exterior is sage green, paint the trim of your house a lighter tint of sage, and paint the shutters, garage door and front door a slightly darker shade of sage green. This pleasing, monochromatic effect will also look very nice in wooded areas and lush, green environments.
Complementary Matches
Complementary matches are those colors that are the complement of sage, or a deep, rich red. Avoid painting the trim of your house red, lest your home begin to look like a giant Christmas decoration, but just paint one element of your house in this striking accent color. For example, maybe the shutters or simply the exterior door should be red.