Gunite is a concrete mixture of cement, sand and water that is pumped through a large hose and sprayed over a metal frame. Gunite's most common use is in construction of swimming pools. Gunite pools can be constructed in almost any shape. The final color and texture of a Gunite pool depends upon the finishing material used. Two of the most popular finishing materials are plaster with marble dust or color additives, and exposed aggregate.
White Pool Plaster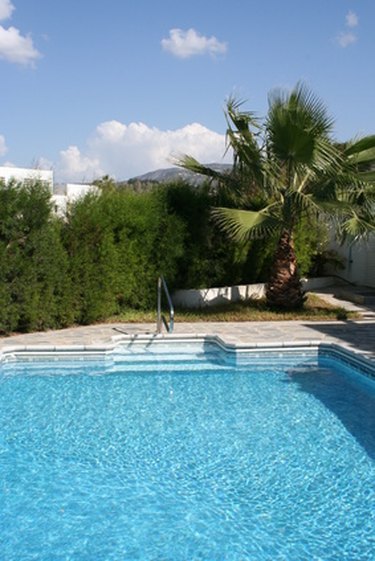 For decades the most commonly used finishing material for swimming pools was plaster with white marble dust, also known as marcite. Pools finished with white marble dust appear blue because the white color allows the blue of the sky to be reflected in the water. A plaster finish over the base Gunite provides a more water tight seal since plaster is less porous than the concrete Gunite mixture. The most popular plaster hues, outside of white marble dust, are light blue, light gray and medium gray. While black plaster is sometimes used, a problem with color uniformity, trowel marks and fading make it a more problematic choice.
Quartz Pool Plaster
Colored quartz sand in hues from red, beige and soft green, to multiple shades of gray and blue increases appearance and adds life expectancy to plastered Gunite surfaces. Its increased performance also makes quartz a bit more expensive than standard plaster, but still less expensive than the aggregate products that are becoming more popular today.
Aggregate Pool Finishes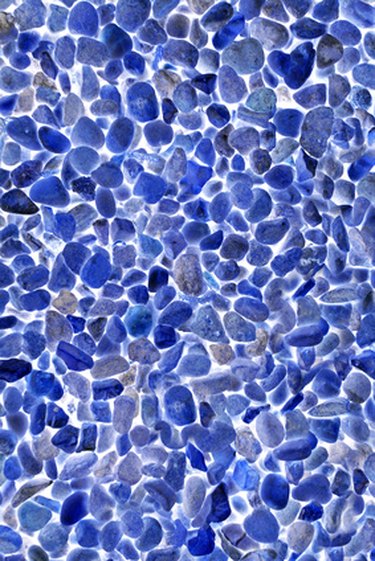 Pebble surfaces, commonly referred to as aggregate finishes, have an appealing natural appearance and texture and are available in a wide variety of colors. Even though aggregate products are more expensive than Gunite and plaster, they withstand the abrasion of pool chemicals longer and deliver a longer product life. While pebbles lead in sales volume, other aggregates like quartz and marble are also gaining more popularity. Even glass is making in-roads in the aggregate finish industry. Custom colors are available in all aggregate finishes, but medium blue, light blue, black, dark blue and medium gray are still the most popular aggregate colors.
Variety
Variety is the name of the game in Gunite pool construction. Pool customers can choose from a broad choice of pool sizes and shapes in a variety of plaster or aggregate finishes. Colors within each finish are as varied as the names given them by their different manufacturers. Aesthetics, durability and warranty also vary within the finish and color chosen. A new pool owner or an owner in need of pool renovation will easily find the perfect finished product with just a little research and a sampling of the available finishes and colors.