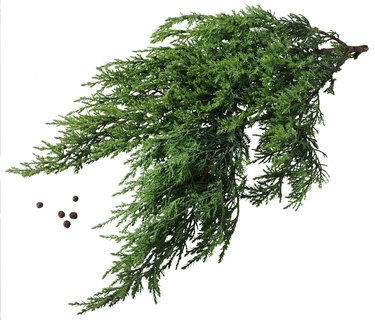 Juniper plants grow in a variety of sizes and shapes and thrive in conditions that often discourage other plants. Drought tolerant and adaptable, they grow best in most well-drained soils. These evergreen coniferous plants produce needlelike leaves and fleshy, berrylike cones. Ornamental groundcovers add color and texture to rock gardens, and shrubs and trees provide attractive privacy screens or windbreaks in exposed areas. Depending on the cultivar, junipers are hardy in United States Department of Agriculture planting zones 3 through 9.
Ground Covers
Juniper ground covers grow up to 2 feet tall and spread up to 20 feet via runners. According to the Clemson University Cooperative Extension, creeping juniper (Juniperus horizontalis) has produced popular ornamental cultivars. Soft, blue-gray 'Bar Harbor' takes on a plum color in the winter, and 4-inch high 'Wiltonii' creates a silver mat. Salt-tolerant shore juniper (Juniperus conforta) grows up to 18 inches tall and is a popular choice for coastal landscapes. 'Blue Pacific' tolerates heat and has bluish green foliage that resembles the color of the ocean. 'Daub's Frosted' juniper, which grows up to 15 inches tall, has purple cones and striking, gold-topped foliage.
Shrubs
Ornamental juniper shrubs add soft foliage and subtle colors to hot, dry areas. The Clemson University Cooperative Extension notes that Chinese juniper's 'Pfitzer' cultivar may be the most popular juniper plant. It grows up to 5 feet tall and spreads up to 10 feet, and produces gray-green foliage with a feathery appearance. 'Blue Star' has a mounded shape with silver-blue foliage and blue cones. 'Mint Julep' forms a 6-foot-tall and 6-foot-wide fountain of mint-green, arching foliage.
Columnar Trees
Narrow, compact columnar tree cultivars add elegant accent to yards and landscapes. 'Hillii' is a blue-green eastern red cedar cultivar that turns purplish in the spring. Blue-gray 'Skyrocket' grows up to 25 feet tall and only 3 feet wide. Juniperus scopulorum has produced many columnar cultivars, including 'Gray Gleam' and 'Pathfinder', which grow up to 25 feet tall and have grayish-green foliage. 'Robusta' is a bright-green Chinese juniper cultivar that grows up to 20 feet.
Pyramidal Trees
Eastern red cedar, which thrives in windy, exposed areas, has produced ornamental cultivars with 20- to 25-foot tapered, pyramidal shapes. 'Canaertii' produces dark-green foliage and white cones, and 'Burkii's' showy blue foliage turns a striking purple in the winter. 'Wichita Blue' is a bluish silver Juniperus scopulorum cultivar that can reach heights of 18 feet or more. Mountain cedar (Juniperus ashei) has attractive blue berries and fragrant foliage, but its pollen can trigger allergic reactions in sensitive people.