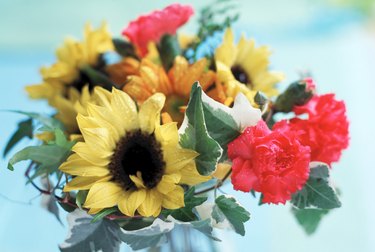 Big, bright sunflowers are a dramatic primary focal flower in floral arrangements. Because of its size and color, flowers that accompany sunflowers in arrangements need to complement, not compete or overwhelm, the sunflower. The color of the flowers you choose to go with sunflowers is more important than species to create a visually pleasing flower arrangement. Stay with a yellow theme or add one, two or three different colored flowers to complement and highlight the sunflowers in your arrangement.
Yellow
Deciding to stay with a yellow colored flower scheme for your arrangement will create a classic, sophisticated statement and is ideal for formal occasions. For a more interesting arrangement, select your yellow flowers in different shades of yellow, light to dark. Yellow flowers that accent sunflowers are snapdragons, chrysanthemums, daisies, goldenrod, lilies, roses and forsythia.
Blue
Combining blue flowers with sunflowers accents the large flower and can create a striking, high-contrast arrangement. Dark blue flowering spikes of delphiniums, statice, lupine or iris emphasize the rich yellow tones of the sunflower. Lighter blue shades of lavender, bachelor buttons, scabiosa, asters and sweetpeas give a softer look. Combine dark and light with the sunflowers and other yellow flowers for a full arrangement with pleasing elements.
Red
Red and shades of red, including orange to pink, added to sunflowers bring out the richness of both the color of the sunflower and the red flowers. Roses, penstamon, snapdragons, daisies, tulips and lilies are available in a wide range of shades and combinations of red and orange. Red, rust and orange gives the sunflowers in your arrangement a bright and vivid look. Blue-red flowers and shades of pink, from light pink to deep burgundy, will tone down and mute the yellow of a sunflower for a more subtle arrangement.
Green
You may not have considered using green colored flowers in any floral arrangements but when combined with sunflowers, green flowers add elegance and make a dramatic statement. Similar to an all yellow monochromatic color theme, yellow and green blend and complement each other well. Chrysanthemums, daisies, orchids, gladiolus, Asiatic lilies and bells of Ireland are available in green or green tinge and blend with sunflowers beautifully in a floral arrangement.