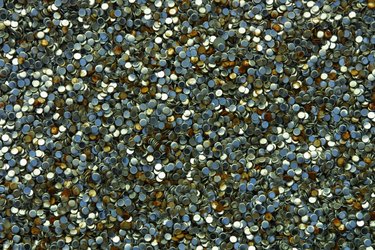 Glitter glue is a type of glue mixed with very fine pieces of glitter. Glitter glue comes in a variety of colors and can be used on many textures. Glitter glue can be used on most fabrics such as denim, cotton and polyester, but generally does not set well on silk.
Types of Glitter Glue
There are typically two types of glitter glue used on fabrics. There is the traditional glitter glue that comes in a bottle with a small tip. This is best used for children's crafts and easy-to-complete projects. Glitter glue also comes in dried sticks for use in hot glue guns. Hot glue guns should be used by an adult or under adult supervision.
What to Look For
When purchasing glitter glue look for a nontoxic brand that dries clear. Some glitter glue will dry white, making the glitter difficult to see; clear-drying glue will make the glitter more visible. On the back of the label, look for a list of what the glue can be used on; most will name the types of fabric applicable.
Tips for Applying
Tape the ends of your fabric to your work space so it won't move around. Hold the glitter glue steady and use even pressure while applying it to the fabric. It may help to practice on a piece of thick paper to get an idea for how the glitter glue comes out of the tube. For use over large areas, remove the applicator tip and apply the glue with a paintbrush. Use a plastic knife to scrape away unwanted or thick edges before the glue sets.
Drying Time
Don't touch the glue until you are certain it's dry. Read the back of the bottle to get an idea for drying times. Glitter glue may have different drying times on different fabrics. Add an additional hour or two before touching to make sure the glue is truly dry.