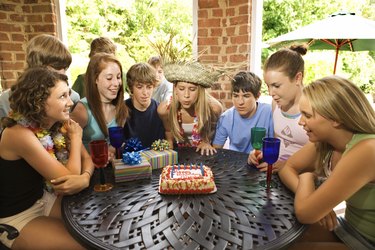 Sixteenth birthdays get a lot of hoopla, but a 17th birthday is just as important and should also be recognized and celebrated. A 17-year-old is still in limbo between being a child and an adult. When a friend reaches this special age, celebrate by giving her an appropriate gift.
Useful Gifts
Consider giving your favorite 17-year-old friend a useful gift, such as a new backpack or personalized bag to carry books and other items that can be used at school. Any gift related to an automobile will be appreciated by a new driver. If your 17-year-old friend has a car or dreams of getting one, consider giving him a gift to use with it. Some ideas include a special key chain or a gift certificate to a local car wash.
Handmade Gifts
Handmade gifts are appropriate at any age and show the receiver that she is special. Make a beaded necklace out of the birthday girl's favorite colors. Add a "best friend" charm to the necklace to make it extra special. Or whip up a batch of the birthday boy's favorite cookies. Fill a tin with 17 cookies and present it with a large bow and heartfelt card. Another handmade gift to consider is a hand-crocheted scarf to keep him warm on cool fall and winter days.
Sentimental Gifts
If you have a history with your 17-year-old friend, give a gift that celebrates your relationship. Make a scrapbook featuring photos of special moments and memorabilia such as ticket stubs or brochures from experiences you've shared. Also consider writing a letter detailing your feelings about your friend or giving a gift that symbolizes something special in your relationship. For instance, give the birthday boy a framed picture of the place you first met or a ceramic coffee mug that features the logo of your favorite eatery.
Other Gift Ideas
Keep your favorite 17-year-old up with the fashion trends by buying her clothing for her birthday. Unless you know her size and color preferences, consider giving her a gift card to her favorite clothier. Electronic devices are also popular with 17-year-olds. Give the birthday boy the latest cellphone, hand-held device or gaming system. Also consider experience gifts such as tickets to a concert or performance, museum entrance or spa treatment.