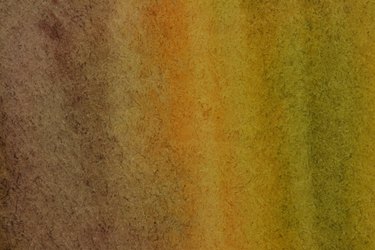 Watercolors can create some of the softest and most moving images. It takes skill and patience to blend the colors in just the right way while creating a cohesive piece. Watercolors are delicate and therefore prone to fading. As with any painting medium, make sure to spray your watercolor creation with a protective sealant.
Types of Sprays
There are basically two kinds of protective sprays, but both perform the same function. You can choose a varnish, or protective spray, in a matte or gloss finish. The gloss is most commonly used, especially for watercolors because a matte finish will leave a slight frosted glass appearance that may overpower some light watercolors. A gloss varnish will dry completely clear but leave a slight glossy finish that will enhance the sharpness of your painting.
Why You Should Use Them
These sprays add a protective layer to your work that shields it from anything that will cause the colors to fade or run. Protective sprays seal in the paint, not only making it stay where you put it, but also keeping the original luster and vibrancy of the colors for much longer. They're inexpensive and worth the additional step to protect your work.
How to Use Them
Once you've allowed your painting to dry fully, which can range from just a few hours to overnight, depending on the size of the work and density of paint, cut open a trash bag and place it on the floor of a well-ventilated room. Make sure that the painting is surrounded by enough of the trash bag to protect your floor. It's important to clear any dust, stray hairs or dirt on your painting away prior to spraying -- anything left behind will be glued to the painting. Stand with your arm extended -- about 1 to 2 feet away away from the painting -- and begin spraying from left to right, all the way down the painting. Keep the can moving and keep the spray light -- don't focus on any one area or the colors may run. Let your first coat dry for two hours and, if necessary, give the painting one more coat.
Other Protective Methods
After you've applied the protective coating, have the artwork professionally framed. You can do the framing yourself if you're on a tight budget. If the painting is very important to you, though, professional framing is worth the extra expense as it ensures your painting will be mounted properly inside the framed, covered with glass and sealed from air and dust. Professional framers also offer acid-free matting and framing that will extend the life of your work. If you choose not to frame your work, either professionally or at home, the protective spray becomes even more important. In addition, make sure to store or hang your piece away from bathrooms and kitchens where steam or smoke may damage the delicate watercolors.