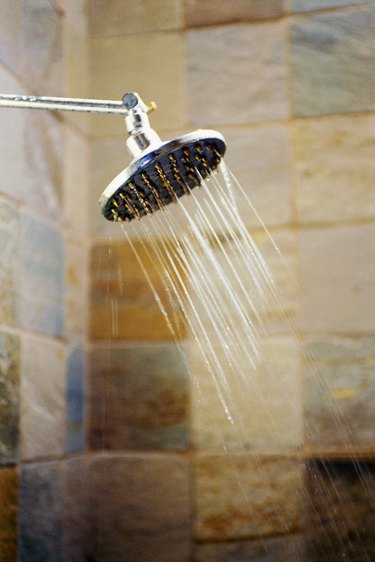 A number of different types of adhesives are on the market for use with tile, but the kind you use in your bathroom depends on several factors. The type of tile can change the required adhesive, with man-made ceramic and porcelain tiles requiring a different adhesive than travertine and marble. And specialty adhesives are available for special circumstances, giving you a range of selections to choose from based upon your specific project.
Man-made Tiles
Two types of adhesives can be used with man-made tiles such as ceramic and porcelain. Latex-modified thinset mortar adhesives are the preferred choices for 12-inch tiles and larger while mastic adhesive is comparable for any installations using tiles that are smaller than 12 inches. Thinset mortars come in a variety of types depending on if you are installing large-bodied tiles (14 inches or larger) or the regular format of 8 to 12 inches.
Light Natural Stone
Light natural stones such as travertine, cream marble, light granite and similar have to use a specialty thinset mortar known as granite and marble thinset. Marble and granite thinset is similar to the regular thinset used with regular tile, but marble and granite is white instead of gray to help avoid the color of the thinset from bleeding through into the natural stone. It is also specially blended to handle the extra weight of natural stone versus man-made tiles.
Dark Natural Stone
Dark natural stones such as slate, bluestone, dark marble and granite can use any type of latex-modified thinset mortar adhesive during the installation of a shower. For smaller stones, such as those under 12 inches, you can use the same rule as with man-made tiles in terms of mastic adhesive, but the preferred choice for all natural stones is the normal gray latex-modified thinset mortar. Specialty granite and marble thinset may also be used.
Shower Repairs
Shower repairs can use the same types of regular adhesives based upon the type that was used during the initial installation, but the drying time on normal thinsets is 24 to 72 hours, depending on the climate you live in. In cases where you need a repair fixed as soon as possible, you can use rapid dry thinsets, which are specifically blended to cure within a matter of a few hours in comparison to the normal drying time, allowing you to get back to using your shower with only a minimal delay.