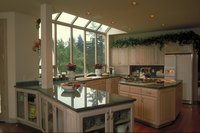 Specialty stone and granite shops can give a leathered finish to many different types of stones and surfaces, including granite. A leather finish gives granite a sort of river-washed appearance, since some parts of the granite looks as if they've been eroded naturally by water over a long period of time. Leathered granite comes only in deep colors, the most common of which is black. Leathering granite will remove a lot of its shine, making smudges and fingerprints less noticeable. You'll still want to clean your leather granite counter tops, though. Luckily, removing fingerprints is easy if done regularly.
Things You'll Need
Stone-cleaning product
2 soft microfiber cloths
Spray the leathered granite surface with a cleaning product that's intended for granite.
Wipe down the surface thoroughly with a microfiber cloth. This type of cloth will help clean the granite of fingerprints without leaving behind any cloth fuzz.
Dry the granite with the second microfiber cloth that should be clean and dry.
Clean the granite counter tops daily to increase the life of the stone.
Polish granite weekly with a polish meant for stone. Polish will decrease the absorbency of the granite, making it more difficult to smudge and stain.