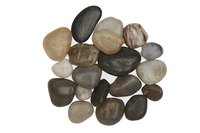 River rocks create eye-catching placemats for home decor. Their natural colors, varied shapes, smooth feel and light-catching luster make them an appealing material to enhance a green, natural or eclectic decor style. Making river rock placemats gives you an inexpensive way to decorate your table with natural materials that blend well with any color scheme. River rocks protect the table from scratches and hot plates, as long as you make river rock placemats on a solid, not mesh, mat to avoid the risk of scratches.
Things You'll Need
Sturdy placemats or material, such as 1/4-inch corkboard
Utility knife
Newspaper
Craft glue or extra-strength adhesive
Small river rocks
Cut a placemat or corkboard the desired shape, such as a rectangle or oval. Trace an oval platter to mark an even oval on the mat, if desired. Use a utility knife to cut the placemat.
Center the placemat on a double layer of newspaper. Squeeze glue in a 6-inch line 1/4 inch from the left-hand edge of the placemat to create a line parallel to the placemat's edge. It isn't necessary to measure -- just work on a few inches at a time so the glue doesn't dry before you apply the rocks. If you're left-handed, start on the right; this reduces the risk of dislodging the river rocks as you work.
Stick rocks on the glue in a line, placing each rock so it touches the previous rock. Continue gluing rocks on the mat a few inches at a time, working from the one side of the placemat to the other. Glue a special rock in the center, if desired, such as a heart-shaped rock for a mother's day gift.
Leave the placemat in place to dry overnight. Attempting to move it too soon could dislodge the stones. Repeat the process to make as many river rock placemats as desired.